O
verlooking Wellington Bay in New Zealand, Jan Cuming of Jinglebears-NZ prepared for Christmas and a special visitor, Valerie Rogers, Editor/Publisher of Bears&Buds Online Magazine.
Friends for 16 years, this was the first time Valerie took the 38 hour trip to visit.
Normally, Jan treks across
the ocean to visit the United States annually; shopping for vignette pieces for her teddy bears and to participate in teddy bear shows.
Since it was Christmas time, Jan had all her holiday decorations on display. She
is an avid collector of elves and Christmas paraphernalia. Jan created a place where Valerie found herself immersed in holiday spirit.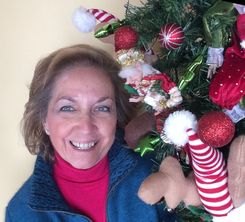 Every corner of the house seemed to tell the story
of the upcoming holiday.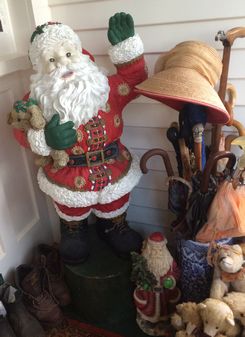 Valerie brought with her some additional Christmas items to bring a little bit of Kentucky to New Zealand.
"Santa" even sent a bottle of her favorite root beer!
Jan, who was born in New Zealand, keeps very busy juggling her bear making in between long hours at the pharmacy that she manages. But bears are her passion.
"My love for bears started early," she confided. "I still have my original teddy who has traveled and lived overseas with me."
So it didn't take much for
Jan to begin collecting teddy bears.
"As an adult, I started to collect vintage and artist teddy bears during regular visits to the teddy bear shows."