Point of Difference
While we strive to acknowledge the excellence of artists in the teddy bear world, we recognize the abilities of our Bears&Buds' readers to pinpoint those works worthy of the highest honors.
Therefore, there will be no judging panels, no jury to winnowing the entries down to a select few. Every bear and bud entered is show and voted on by our site visitors, collectors, artist, and the collecting public.
The other major difference between the URSA Awards Competition and other contests, pertains to our overall emphasis on both bears and buds (soft sculpture art).
You can enter a different bear or a bud in every category.
| | |
| --- | --- |
| ??? | See all the Prizes |
Notice to Our Readers
We bestow upon you, our readers, collectors and art enthusiasts, the privilege to vote for your favorite bear, bud, or artist; choosing what you believe marks the quality of fine art.

As a judge, you will vote for 3 entries in each category, which you believe possesses the indefinable quality that 'speaks to you" and sparks your desire to collect.

You will also be evaluating whether the artist has "reached beyond the stars" with their creative work and reward those you feel have done so, with your vote.
URSA Awards Competition winners are announced in October's issue of Bears&Buds and awards mailed shortly
thereafter.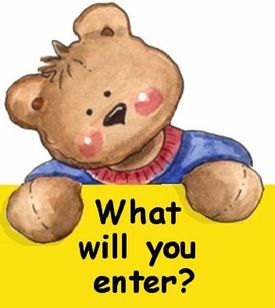 Click on the bear for the 2023 Official URSa Entry Form