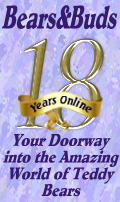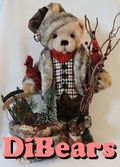 The Original Online Teddy Bear Magazine

Teddy Bear & Vintage Toy Appraisals

July 2023

Introduction . . .

I am now honored to reach out to the collectors and owners
of unidentified bears, stuffed animals and vintage toys.

Ken did this for years and was an expert appraiser. I was his understudy or apprentice and together we viewed and enjoyed each and every request that came our way.

Appraising bears online is a fun adventure for all of us.
We will share our discoveries here on this web page.

Meeting new faces, in teddy bear form, and sharing the knowledge I have gathered, will be a joy. Together we can discover that everything old can be newly appreciated!


Beary best,
Brenda Yenke

How much is your beloved bear worth?


Cursor down to discover the appraisal procedure.

Greetings Brenda,

Bear was purchased at an estate sale. He is 25-26" tall.
Belly has crunchy material underneath fur, arms and legs seem to have some sort of stuffing material underneath. Arms, legs, and head are all movable. Joints feel hard. There are e threaded claw lines on each of the front paws, but none on the feet.

Rick

Hi Rick,

What a sweet teddy, who has extra long extremities, a squared muzzle and is very well sewn in a mohair fur with wool felt pads. He could date to the early artist's bears and seems to resemble those made by Cindy Martin in the late 1980s. She had the extra long arms and legs, but also had bendable attributes. He is definitely an artist creation, and considered a large bear. His character also seems puppy like with the squared presentation in the muzzle. The eyes are glass shoe buttons. Usually, states required a sewn label for ID, and advised as a collectors item for adults. His fabric is well kept, slight wear only, and the pads are perfect. To make such a large bear required skill and perseverance.

The bear is five way jointed and stuffed with excelsior. The hand stitched nose is typical cord, with claws to match on the hands. At 26", your mohair teddy bear would have a value of $175.00.

Brenda

Hi Brenda,

this guy is exactly 22" tall.
I don't know anything about his history. I obtained him at an estate sale. I thought he looked interesting and so
I brought him home. He does have a growler in his back - all of his joints move freely - one leg might be a little loose. He apparently has the wood shavings for his stuffing. I don't know what else to tell you about him that the pictures don't show.

Thanks again,

Jerry.

Hi Jerry,
Your large teddy is quite a sweet one, although he is missing his glass eyes! He is English, from the Chad Valley acquisition of Peacock & Co. It was originally established in London during the Victorian era, they created wooden toys and games. William Peacock established a partnership with Albert Frank for toys until Albert was called for military service during WWI. William continued with production of Peacock & Co, until after the war. It was at this time that Chad Valley took over. These teddies have several characteristics that distinguish them from other UK products. Almost all their noses were horizontal, even for the larger bears.. and Chad Valley kept with this trait. The take over happened in 1931, and remained to mimic the Magna Series with the three long claws. They all had shaven muzzles, and cupped ears, with a slight upward turn in the end paws. While some had felt pads, others had woven cloth pads. His amber glass eyes would have been on wire inserts. The original ID footpad was also cloth related with red printed info. The stuffing is excelsior. As far as we know, production ceased by 1940. Your teddy dates to the 1930s, and would have a value of $350.00 for the 22" mohair teddy.
Brenda

Hi.
Brenda, you have so graciously helped me with two appraisals over time and I wanted to ask for your help once again. I have in my possession an interesting little guy measuring in at about 9 inches long a recent find. As I was trying to take some pictures for you, I think the legs wanted to move. The bear has been well loved and I am missing the original key. The bear needs a bit of cleaning but that`s alright with me as a bear lover. I am seeing there is a black France stamp on the under belly. I will be so thankful for any information you may share and do appreciate your time be blessed,
Donald

Hi Donald,
Your French mechanical bear with rabbit fur points to Roullette Decamp. The visible "France" marking reveals it was made around 1890, if it was imported into the US. That would coincide with the Mc Kinley Tariff Act, which had to include the words Made In ( country of origin) from 1890-1920. The unique aspect of French toys, most were made for the French market, while German toys were very much imported. The tin French teddies with fur and wooden hands and feet were Fernand Martin. Both were mechanicals. The applied nose and glass eyes give him a puppy dog look- kind and gentle. The bell may be original, with a replaced ribbon. As with any toy, nonworking puts them at a decreased value. But as my late husband used to say…a toy is made for play.. and yes we have a few that no longer work! You could go to a clock shop for a key or try an antique/flea market. We purchased a key from a clock repair shop, has various inserts for different sizes. The interior is paper mâché based. At 10" your specimen French, once walking bear, on all fours would be valued at $150.00. If he worked- double that!
Brenda

Hello Brenda,

This bear came from my mom who got her from a friend. What we know is this bear is an "Ideal Teddy" circa 1910. It is 24 inches. It has some bald spots and one of his arms has a tear (see pic) where wood looking things are coming out. My mom has passed but called him Mr Green. Her friends last name was Green.

Cathy

Hi Cathy,
Your Mr. Green has had quite a journey, and considering his age…he has done very well. It was very nice of your Mom's friend to gift her teddy! It doesn't have the horizontal stitched nose that most Ideal teddies have, this may have been redone. The eyes also were usually inside the head seam as well. Yours may have been replaced in this fashion. He has some Early American traits with the low shoulders and more visible hump in the front than back, but think he had some mending in this area as well. The footpads are replacements, common to contain the excelsior. However, original ones were wool felt not acrylic. I think he dates to the next decade from 1910- 1920. They were hand closed in the back seam, which is not shown. The mohair has glisten, so he was stored properly, but the tear area suggest a bit of fragility from being antique. Joining the fabric may be hard to reinforce if their is a fabric decline. At 24" he is considered a large example. We shall conclude that he is an "Ideal type" with alterations.
With the two pictures this added value for provenance.
I would estimate him at $450.00.
Brenda

Brenda
I recently purchased this big guy at an outdoor market and would like to know who he was manufactured by, his approximate age and current value. He is 24" tall, made from a thick beige mohair with a shaved nose and large cupped ears. Overall, his fur is in great condition however there is some wear to the back of his legs, maybe from too much sitting? He has a large, broad head and big, widely spaced, amber and black glass eyes. He is fully stuffed with excelsior and has an impressive hump on his back. His paw pads are felt and he has 5 claw stitches on each. This fellow has a working growler.
Peggy

Hi Peggy,
Your large sized teddy with the wear to the back of his legs is German, most similar to the original Edmund Mechtold in Neustadt near Coburg. They formed in 1909, but in 1948, the son in law took over, renaming it AHU, after his name Albert Hutschau. He formed this new trademark in 1950. After his death in 1960, his widow and sister carried on the business. They closed in 1963. Known for all sizes of teddy bears, the inset muzzle and long arms of the large teddies were a hit at the Nuremberg Toy Fair in 1950. Your teddy dates to this time. The eyes are glass, hand stitched vertical nose and mouth extension. The pads are wool felt. What happened to the legs, is he was placed on a quilt or wool surface, where the moths had a feeding time! You could sit him on some cedar chips to make sure this damage was done sometime ago. At 24" he is large, and excelsior stuffed. Value for teddy with the sparse mohair on the back legs would be valued at $150.00.
Brenda

Hi Brenda, thrilled to find you!

This bear was my Dad's, and he was born in 1920 in Elyria Ohio, though the family was from Germany a generation or so before. He is definitely crunchy inside.
My dad's bear is 16" tall.
Any thoughts are welcome

Lisa in Minnesota

Hi Lisa,
Your 16" teddy is American Ideal bear made in NY, and it is often called a "stick bear" with the long skinny legs, and the shorter arms. It was made after the WWI, around 1919. Conserving on materials, the stick bear offered the real Mc Coy for the teddy bear craze. He is mohair, and filled with excelsior. He is five way jointed and may need his head turned and appendages turned. As he appears now, the finishing seam is in the front. Most American bears had this seam in the back. German bears were more likely to have the finishing seam in the front..so a simple few turns, and he will be a happy bear. Ideal was a large manufacturer that made bears for many decades. Rose and Morris Michtom were the brains behind Ideal. Their NY factory address was initially found in the 1907 census. The eyes were most likely glass on a wire shank. Not exactly child proof, but somehow they survived. The shoe button eyes were the early models. The large ears are toward the center of the head. If you have pictures of your Dad with teddy that would help value and be known as provenance. As he appears, the felt hand coverings are sewn over to keep the stuffing in place, and the darning for the feet is meticulously sewn. His nose would have a cotton twill covering while the mouth extension was cord. All in all at antique status, his valve would be $125.00.
Love he was born in Elyria, OH too!
Brenda

Hi Brenda,
I recently bought him off eBay. He is 12" tall and made from beige mohair. Paw pads are missing but he has remnants on his upper limbs. It feels almost like paper.
Dark brown claws on all four paws. He appears to have brown kapok stuffing sticking out of his paws, and wood-wool in this stomach.
This bear has a very unique head seam. There is a horizontal seam that starts from each side of his nose, diverts at his eyes, runs under his ears and around the back of his head. Boot button eyes. Nose is a stitched on fabric-type.
I thought he may be a Silberstein, but as his nose is not velvet, and claws are brown not red, although he does have some very similar features.
Erika

Hi Erica,
Yes, your initial feelings about Silberstein are correct, with that unusual head seam and the appointments we see! Heinrich Silberstein was located in Berlin, and in 1906, he advertised animal bears with velvet paws and movable parts. There became a legal dispute with Steiff, who took them to court. Matters resolved since many other companies also advertised these movable parts, and the teddy bear multiplied! Your example is very early, 1906, making him antique. The velvet has worn off its nap…meaning the backing is what you see. The cord claws and mouth were very thick, and all still very evident. They had velvet feet, yours merely resembling the cloth backing. The stuffing was probably a combination and called "sub", a term used in the factories. My late husband gets the credit for positively identifying this bear from Germany, after reading texts and then seeing one in person. Before that time they were unidentified or perhaps American. Their faces are the true ID, with that seam you mention that encases the sweep of the contours around the ears and forming his traits. He can be restored with stuffing, very carefully as his mohair is sturdy and intact. Value for your iconic German Silverstein 12" teddy with wear would be $400.00.
Brenda

Hi Brenda,
I found this cute guy at the thrift store. There were no any labels. It looks vintage and custom made for me. I am curious about his possible history and value. This bear is 21" tall and has jointed limbs (feels like discs inside). I'd say his eyes are made from glass but not sure. Nose looks like worn leather. His paws are silk or satin with embroidered details (flowers) and "CAA" on one paw. He is stuffed with something soft enough (definitely not wood or firm particles).
But overall the bear is pretty heavy and firm. He is in a very good condition: no visible damages or worn spots except nose. All limbs are movable and the toy can easily sit on his own with raised arms.
Thanks!
Vera

Hi Vera,
Your newly acquired teddy is mint, and at 21", considered a large sized teddy. He appears to be an artist bear, with the additional creative touches of silk inspired pads. The fur is most likely a wool or wool blend possibly taken from a coat. He is attentive with the big cupped ears to hear, and has a leather like nose with the mouth stitching matching the eyes (iris). He is five way jointed. The stuffing may be polyester fill, perfect for new creations. The paw pads are made from a silk Victorian crazy quilt. The cut out initials are nicely preserved to add their identity. All four pads have this silk presentation. The eyes are plastic, and the iris matches the mouth extension. He is five way jointed, or an articulated teddy. Artist bears made a debut in the marketplace with Beverly Port designing and promoting this special craft. Prices have come down like most items today, but he is original and would carry a value of $75.00.
Brenda

Hi Brenda,

The bear is 14 inches tall, 5-way jointed.
He belonged to my Mother in Law, maybe from the 30's or 40's?
Thank you for your help!

Sandy

Hi Sandy,
Your 14" mohair teddy is American, made by Character Novelty Co. They were formed in 1932, under two New Yorkers, in Norwalk CT. Caesar Mangiapani was the designer and Jack Levy was the salesman. They eventually had a showroom in NY after 1945. This company became famous, with the Elvis song, (Let me be your) Teddy Bear in 1957. Pictured on the jacket of the record is a Character teddy bear! Your example is older, 1940s, with the air brushed claws, shoe button eyes with white circle felt backings, vertically stitched cord nose, red felt tongue and original silk bow. His felt pads are mint as well. If you have pictures of your Mother-in-law with the teddy that would add to provenance. It still can be provenance with a written letter to include her info. Value for the original mint teddy would be $275.00.
Brenda

Dear Brenda,
I purchased this 24" teddy in a collection of teddy bears. He appears to have been restored but his mohair is all original and fully covers him. He is completely excelsior stuffed with hand stitched seams. Who made this beauty, when and what else can you tell me about him? Looking forward to hearing his story and appraisal value!

Thank you,
Karen.

Hi Karen,
Another large one…and this is American with the fabric nose that may have been re-stiitched. His ears are also cupped and sewn toward more of the front, almost monkey style. That is the Ideal look, dating him to 1914. The American Stars and Stripes nutcracker displayed by him and his patriotic necktie, and the eagle landing on the flag, make for a great outing. His mohair is very gold, with the arms placed close to the body. His pads are re-stitched as well. Ideal Novelty and Toy was early, started by Morris and Rose Michtom. We saw the census report in 1907, that lists their business in NY. Nothing before that time was recorded. Usually the eyes were inside the head seam in the earlier bears. Stuffed with excelsior, he was cared for over the years. Most had claws, but wear also could have been a factor. He does have a cord extension for the septum and mouth. Considering his updates, a value of $800.00. would be appropriate.
Brenda

Dear Brenda,
Here is a gorgeous teddy in wonderful condition.
He is 22" tall, has gold mohair and is excelsior stuffed. He did have his upper left paw pad replaced very nicely at some point and
I believe his eyes are glass amber replacements.
He has a beautiful muzzle!

Wondering when he was made and by whom.

Thank you so much.
Karen
Hi Karen,
This 22" teddy is American and dates to 1917, with a shorter mohair, shorter arms and legs but still a round tummy. His final hand closure is also in the back. The nose is just a few threads with the mouth extension, and the glass eyes are stuck right outside the head seam. It has Ideal Novelty and Toy traits like characteristics…with the large head and ears, slight shoulders, and it seems original pads. I love your accessories with each teddy…this one with his squirrel copper mold, an Atlas canning container and the lovely red daises. He has no claws. These eyes are amber red. He most reminds me of TR…the round tummy! He is an antique, 100 years or older. I think the size helped him to survive…to large for play, but a great spectator. His mohair is a bit sparse by his left arm, still in very good shape. Value on this teddy would be $650.00.
Brenda

Hi Brenda,
The bear is 19" standing
Golden color Mohair.
The eyes are black- Not glass maybe plastic or other material. Has a working growler. Makes some cute noises when you move him.
I bought this bear from an estate sale.

The person had a whole bunch of wonderful dolls and stuffed animals.
She originally had this guy dressed up and infant cloths. Called the Cutest One.


Was a blue velvet infant dress with what looked to be hand knitted booties and the blue velvet shorts to match.
Also had a silver bracelet on its wrist. So i have had some group take a look at this bear and there are 2 different opinions.
1. that he is a British bear. One says because of how short the arms and legs are.
2. is that he is an Schuco bear.
Now i have no idea were to start when it comes to identify a British maker. The info i gathered on it came close to what this bear looks like except one factor. The site i was getting info on the brand said it would have a downward paws almost as it was begging.
Thank you.
Jon
Hi Jon,
You sure did a great job with all the photos! After much research, book upon book, I have come to the land of Auckland, New Zealand. I will enclose a photo from a 1990 book by Jacki Brooks, The Complete Encyclopedia of Teddy Bears. The company is Harrison's Textiles, formed in 1977 by Cline and Precille Harrison. It later became Harrison's Gifts.
A Trademark was printed on a cloth tag with a red heart superimposed with Harrisons in black script. There is a doll hugging a teddy bear inside the heart. They made toys from 12"-32". In 1992, they established the "Bear with us" phrase. Your sweet teddy is 19", and considered a large size. He is mohair, has a very high forehead and plastic black eyes. They were quality jointed and unjointed makers. He has no claws, and acrylic felt pads. The idea the original owner owner had great dolls, is no surprise with this firm. It fits right into this narrative. Later examples were made in Taiwan, but one other resource said Korea supplied the extras. I think he dates to the early 1980s, and is possibly stuffed with excelsior. His large head is about the size of his tummy, giving him the baby bear look. The inset muzzle is a white fur with the vertically stitched black cord nose and extended mouth. His finishing seam is in the back, hand sewn. The ears are placed high on his head, and cupped. The little arms speak to the baby era. The long mohair is very complete, and adds to his appraisal. At $225.00, your New Zealand teddy is quite a prize!
Enjoy- Brenda

This teddy bear has been in my family forever. I know he was purchased by my grandfather for either my father or oldest sister. I am not sure of its maker or of its age. My grandfather was a German immigrant who regularly traveled to Europe throughout his life, bringing home gifts from abroad. He is in very good condition & has no tag or button attached. This teddy is 8" tall. His fur is stiff & he crinkles when squeezed. He's in very good condition as my Mother kept him safe in a guest room for many years.
Also, my grandfather immigrated to the US in 1923 & spent much of his life working as a mariner. He was chief Stewart on the SS United States ocean liner from 1952 through 1969. Prior to that he was assistant chief Stewart on the SS America. Thanks for any help possible.
John Kunze

Hi John,
Your sweet vintage teddy is even more interesting with your added history! The small mohair bear is a Steiff, dating to the late 1950s. With your added notes on your Grandfather, it makes teddy's story very interesting. I think he was purchased in Germany, as part of the 100th Anniversary of US Pres. Theodore Roosevelt's October birthday in 1958, calling it the Nimrod bear. They even had a special Festival in Germany for this occasion, and it was covered on our TV News, CBS broadcasting. At this time, they could have had overruns at the factory, selling such bears without costume, buttons, or tags. The buttons were merely clipped into place during the early years, and could easily be removed. The later birthday celebration for the 125th year was made exclusively for the US market, in 1983. This set of three campfire teddies are 9" teddies,with colors of gold, white, or brown, all costumed within a cardboard box. Since your Grandfather was a Chief Stewart on SS America, I think he would have chosen such a bear with TR in mind of his USS Theodore Roosevelt NATO Warship! Value for your teddy with provenance would be $300.00.

Brenda

Greetings Brenda
This item on purchase, was stated to be German & over hundred years old from a op-shop Despite it much loved appearances this 27" tall bear remains very adorable. Her face is a classical friendly, her eyes appear to be glass, brown with black pupils. She has the remnants of the 5 claws and the possible remnants of the thread which held the Steiff tag in the ear. It has the seam down the middle and is stuffed with a straw like substance.

Her joints are definitely vintage the head rotates on a cardboard fashioned support. Her limbs only move in a up and down manner with some slight circular rotation. She has had a repair, I believe to he nose. Re stitched. He paws appear original. She is missing covering cloth from her paws and feet. She goes appear to make a noise when moved.
If you could help me with a appraisal and identification it would be great.

Thank you,
Deidre in Australia

Hi Deidre,
Your old teddy, even with the wear, has a definite presence. She most resembles a French maker, called F.A.D.A.P. The large feet, hand closed body seam in the back torso, large cupped ears, and the upturned nose. He dates to the 1920s, the very early years for the teddy bear industry. France was early on their fur covered animals, both mechanical and still, but came into the bear industry with less demand for quality. The nap on the left leg trends upward while the right leg has the normal downward flow of the mohair. A small sample of quality control. The fur is quite worn as well, not a fault of manufacturing, but simply well worn. The nose cord color would be correct if the bear was originally white, however, I see a golden hue. Golden bears had black noses and cords. The five claws would be very early….1905, and France did not have teddies at that time. The artistry to recreate teddy left their mark. The additional black eyes are replacements as well. She is a large bear, with excelsior and kapok stuffing. The pads are open, and could be gently closed, filled in with like fabric. At 24", a very large bear. This company was at Divonne-les-Bains, a town near the Swiss border. They ceased business in the 1970s. Value for your reworked French teddy with wear would be $ 175.00.

Brenda

Hi Brenda,

The bear came from my mother. I don't know where she got it. He is about 4 3/4" tall and about 5 1/2" long. Looks like glass eyes and of course the green collar. On the tag is written 195.

Carol

Hi Carol,
Your sweet little bear is a Steiff, from the 1950s. It is called the Original teddy, but can also be called a standing bear on all fours, the young bear. His collar is perfect, leather and has the bell attached. At this time the buttons in the left ear were mainly clamped into place, and could be gently removed. Later models had a machine type mechanism that was not easily removed, and could cause damage to the mohair. His color is caramel, they also did a white bear. The head should be jointed and is easy to move from side to side on the round disc. He is in excellent condition, and may be waiting for a sleigh of toys! I have a similar sized teddy that I put small wooden skies on his foot area and gently kept them in place. Value for your vintage small bear would be $100.00.
Brenda

Hi Brenda,
Here is another one I would love to get more information on. I just purchased him as a birthday gift for myself :) The ad stated that the original owner was a collector of German bears, so the seller thought this may be the case with this one as well. The bear is ~16", fully jointed, with long light colored mohair and what looks like a shaved muzzle. I believe the filling in his head is excelsior, but the body is very soft and he does look to have a bit of a hump. There is a growler or other box inside his torso but it isn't operational. He has wool felt pads on his paws, and his feet have more of a pointed/ almond shape at the toe. No claws that I can see. His eyes are glass and his nose is stitched vertically.
Thank you for everything! Carly

Hi Carly,
What a sweet teddy, who is also in excellent condition! I do think he is German, with a few traits from Cuna & Ootto Dressel,from Sonneburg, exporter of toys. They were a family company, with traits similar to Steiff. The shaven muzzle, red glass eyes outside the head seam, and the vertical sewn nose cord and the long extension for his mouth resemble these teddies. A few examples had the pointed footpads, with the wool felt covering. He is hand closed in the front, with large cupped ears and no claws. I would date him to the 1940s with the shorter arms. At 16" in such fine condition, his value would be $350.00. Very wonderful gift for yourself…mint and classic!
Brenda


Hi Brenda,
The bears is 12 inches long laying down. He has on the remnants of an "Elvis" T-shirt says Let…your Teddy Bear. His nose and mouth are glued on so I don't think he's terribly old nor an expensive bear. His stuffing is starting to disintegrate and migrate outside the fur. He does not have a label anywhere on him or the shirt saying where he is made. My brother got him from a collector in Brownwood, TX. I paid $15 for him not because I love Elvis and teddy bears, but the bear has the sweetest face.
Rita
Hi Rita,
Your vintage teddy with the Elvis shirt on seems to belong to the American Character Novelty Co. originally of Norwalk, CT. It was formed by two New Yorkers- Jack Levey and Caesar Mangiapani in 1932. After WWII, their business really boomed with the teddy bear. They had a NY Showroom and sent many teddies to all the large department stores. Elvis made his 45 record of (Let Me Be Your) Teddy Bear, and the flip side Loving You in 1957. He is pictured with a Character teddy bear on the cover! Usually they had a white felt circle behind the eyes, with the red felt tongue and came in jointed and unjointed. Yours is iconic this year with the passing of Lisa Marie, his only immediate heir. Elvis is and was an amazing talent. Now, back to teddy. Yours seems to be from the 1960-70 era, with unjointed limbs, an acrylic plush fur with the felt tongue and nose original and intact. He has a plastic starry eye ( child safety laws in effect). He looks so huggable and the classic vintage shirt has Elvis's image with the teddy bear notation. The shirt could sell for $15.00 alone. He is a "Star" in his own right,
I would say as a package his value would be $75.00 and up. Start his new provenance by writing your name, how and when you adopted him, on a note card and keep in a safe place! Hugs to you!

Hi Brenda,
I am hoping you can tell me about this bear I purchased a few years ago. I don't have any information about his past, unfortunately. He is fully jointed with long, almost platinum blonde, mohair and stuffed with excelsior. He has glass eyes, large cupped ears, and 4 claws on each paw. His nose is stitched with what feels like horsehair or other very fine material. He appears to be hand sewn up the back. He's about 21.5" long.
Thank you so much,
Carly

Hi Carly,
Your great antique teddy seams to most fit with the German manufacturer Herman Eckstein, who had a factory in Neustadt near Coburg. He dates to the 1920s, with the long arms and slight upturn at the paws. The eyes are red glass, with right eye sewn on the seam, while the left one is just outside the seam. He has large cupped ears, and a horizontally sewn cord nose with mouth extension. The shoulders and hump are rather nonexistent. He is closed with the hand stitching on the back. The 4 claws on each extremity match the nose. The felt pads have some wear with excelsior showing. I would consider him a large 24" teddy. The mohair has a few areas of wear, but the head is the most important aspect. I would value him at $400.00.
Brenda

What we know about Bobo is that he originally belonged to my great grandmother who was born in 1913 and she had him as a little girl. He does not appear to have any markings anymore and we don't know if he ever did.
The bow around his neck is not original. He is 21" tall and is fully posable. There is a small tear where one of his ears attach to his head, which allowed us to see that his head is filled with straw.
We do not know what the rest of him is made out of. Any information you can share with us about his maker, age, fill, history, etc would be wonderful. Thank you very much.
Adam

Hi Adam,
Your mohair teddy is American, from the Knickerbocker Toy Co. how nice you know his provenance with your Great Grandma! This wonderful firm later became the favorite teddy of Shirley Temple. They first made alphabet wooden blocks for the Victorian era, and got into bears at the earliest from the 1920s. They were located in Albany NY. In the late 60s they moved to Middlesex NJ. Wallace Berrie took over on the 1980s, but ceased operation shortly thereafter. Your prime cinnamon bear dates to the 1930s, with the velvet pads and shaven snout. The eyes are amber glass and the nose vertically stitched. No claws. At 20", this is considered a large size teddy. You are correct with the excelsior stuffed head, while the limbs were kapok/cotton. These teddies did have tags, sewn into the chest seam, toward the top. If you have pictures of your great grandma and teddy this would increase the value and be known as provenance. It's never too late though, as you could take your picture with teddy and give him the legacy he deserves! Value for your very good condition 20" vintage teddy would be $400.00.
Brenda

Hi Brenda,
I used to know the name of the bear and I can't remember now. He is adorable. His head turns back and forth when I turn his tail. His little paws are curved over so he can hold onto the side of a table or peek over a ledge.He is 13" tall long mohair. There is a flat button in his belly where he used to make sound. He's crunchy in the middle but legs are packed tighterand still crunchy. Shaved snout, vertically stitched nose eyes seem to be glass. Flat feet with felt and three claws on both paws and feet.
Tiny hump on back with a small belly.
Thanks so much!
Dana

Hi Dana,
Your sweet teddy bear is German, from Schuco. He is in really good condition dating to the 1950s with the downturned paws. They did this style to make the German bears appear more friendly and gentle. He is all original, with cardboard inserts into the soles of the feet for proper standing. It is mechanical, tail moves the head-making him a talking bear, saying yes and no. Historically, Schuco was founded in Nuremberg in 1912 by Heinrich Schreyer and Heinrich Muller. Muller previously worked for Bing. They continued in production until the 1970s. His eyes are glass, the nose is hand stitched cord, and the mohair muzzle is shaven. Pads are wool felt. Being he is a working mechanical teddy, the value would be $650.00.
Brenda

Howdy from Arizona,
I have this bear, and have looked through several books and have not been able to find anything like him. I would like to know who made him & when, and how much he is worth. He is 24" tall, not jointed, and has soft stuffing with a black leather nose and tan leather pads on all paws. His mouth was stitched, but mostly gone now, and he has small, round wooden eyes. The seams are all in tact and no stuffing is exposed except on a spot on his nose.
He is just darling and looks like a tough little guy! His black leather nose is disintegrating a little and crushed, and his stitched mouth is nearly gone, but the fur and pads are good.Thanks for your time,
DJ

Hi DJ,
Thank you for your kind words about Ken, and for enjoying his Collector Books! He also has a hard bound book- Bing Bears and Toys of his favorite maker! He loved collecting and sharing his love of the teddy bear! Back to your unusual teddy. I scoured high and low, pages and volumes, similar but nothing quite the same as yours. My conclusion is he is English or Australian, manufactured not artist, and dates to the 1940s. With bendable arms and legs, not jointed, the neck is also stationary. The material is a natural fabric, possibly lamb skin, with the leather pads sculpted and formed to appear as bear tracks. He is kapok filled, has a leather nose and glass eyes. I also see the extension for the mouth, salmon colored cord. At 24" he is a large bear, and very huggable. He goes along the lines of a Wendy Boston…but better! The muzzle on the face has a separate piece inserted where the nose and mouth were formed. The ears are flat, not cupped and the eyes resemble early shoe buttons. He perhaps was an advertising teddy. I would give him a value of $125.00.

Dear Brenda,
I recently purchased this teddy at auction and am wondering if you can identify and appraise him for me. The teddy was marketed as an "Early 1900s White Mohair Teddy Bear." The description of him in the catalog reads: "Early 1900s White Mohair Teddy Bear Jointed with Hump - fully jointed head, arms and legs, glass eyes, stitched long snout, toes and fingers felt pads, 18" tall. Good stitching, pads with tiny holes, mohair with few tiny areas with losses."
Thank you in advance for your time and expertise!
Kaen

Hi Karen,
Interesting large teddy who does appear to be an early one, most probably American. The Aetna Toy Animal Co. began in 1906, and were available through George Borgfeldt and Co. of NY. Formerly known at the Keystone Bear, they were top quality and compared to the best. Stamped on the right foot were the words AETNA when they were first made. Today, a century plus later, most have lost this imprint. He was gold, being somewhat pale from sun over the years. He is still very good in condition, having the original vertical hand stitched woven type cord for the nose and mouth extension. They had no smile, but a rather dignified presence. His finished seam compares to other American teddies, found in the back seam. I see at least four claws, maybe even 5, which were very early. He has a large hump, resembling the shoulder blades of a real bear. He is 5 way articulated, with large cupped ears toward the side of the head. He dates from 1906-08. A few moth holes in the feet, could easily be filled in with wool felt patching. Value would be $1,500.
Brenda

Hi Brenda,
I took a leap of faith and purchased this bear and the information he provided was: "Steiff 1910 33cm tall - from Germany" I think it could be a steiff bear but can find none like this through a search on the internet. Could you please let me know who may have made this bear.
Thank you!
Melissa

Hi Melissa,
Your black mohair teddy bear is not a Steiff, but it is an artist made reproduction…made probably about 20 years ago. The black mohair bears made a debut after the Titanic sunk in 1912. They appeared in many shop windows as a mourning tribute to all who lost their lives. Steiff and various other companies came up with this sympathy teddy bear. Ironically, the black bear scared young children, so their immediate impact was to change that appearance. His glass eyes appear outside the seam, ( Steiff are brown painted backs), ears on the side of the head, and extra long arms to mimic the older models. He is well sewn, but the deliberate damage to the pads is unfortunate. Again, this was to imitate a possible old example. The fur or mohair is quite full and has a shaven muzzle. The nose cord and claws match, a nice compliment for keeping tradition. Steiff used a red cord for their models, but your salmon tone is well done too. I am hoping he is excelsior stuffed for future keeping. An artist made teddy as a "look back", usually has a slight value today compared to 20 years ago. It's like most items…up and down in evaluation. I would give him a value of $75.00. If the pads were mint, we could add another $50.00.
Brenda

Hello!
I have this wonderful old little bear. He's at 15" tall. Small hump, glass eyes No button or sign of button. He has a chest string. I think long mohair. Hands and snout are packed tight with something stiffer but body feels crunchy like excelsor, or the polak next type. He has swivel head arms and legs. Feels like round joints. He has four claws on feet and hands. His felt pads looked to have been professionally replaced. Could be from the late twenties or thirties. Bear with restored pads has some 50's feel as well I know nothing about bears really accept the obvious. Please help identify my mystery bear :)
Dana

Hi Dana,
Your mid sized teddy has great provenance…from the Steiff Co. of Germany. He is mohair, and would be excelsior stuffing. The center seam final closing with the heavier thread must have had a slight repair for stuffing. Even though he has older traits, those completed in the 50s, adhered to those traits to carry forward their heritage. He is an early example, with the chubby nature of the body, dating to 1950-51. His name was Original Teddy. The early ones had glass eyes, later examples were plastic due to child safety laws. He has some wear spots, the face being the most important attribute. The nose is cord, vertically stitched. Same cord is used on each of the 4 claws. He would have had a button in the left ear, with a yellow ribbon attached revealing his data points. Later examples had riveted buttons as well, that could not be removed. He had a silk ribbon around his neck, and a circular chest tag sewn into the front seam. The pads have been professionally replaced. It either has a growler or squeaker. Most vintage teddies, have inoperable voices. Value for your 15-16" teddy would be $375.00. Brenda

Hi Brenda
This bear was left in the storage of the house we bought and now live in. The bear has movable legs and arms. I can't tell what the eyes are made of, but the nose and mouth are sewn. The feet and hands look like and feel like leather. There is some cracking on one of the hand. There are no labels or other indicators of maker that I can see. The measurements are: He is 19" tall, 10" long arms and 9" long legs.
Thank you
Lisa

Hi Lisa,
Your newly inherited storage teddy at 20" is considered a large bear. He most likely is an artist made teddy from a few observations. The original Teddy Bear Artist's Manual, published in 1989 by Hobby House Press and written by the combined efforts of Rosemary and Paul Volpp. They owned Happy Anniversary, the Steiff bear who set record price, as well as many, many other bruins. Also complied by Donna Harrison and Dottie Ayers, longtime dealers and collectors. Alice Ann Liles of Maryland was known for her antique looking teddies. She began making bears with traits of older bears. As shown, your teddy has long arms, long torso, wide hips, and full legs with feet that point upward. This one significant trait of the feet is very discernible, as the antique ones are almost always pointing to the side. This in point has to do the older excelsior stuffing. The ears are full and rather flat as compared to cupped. His sweet face with the high forehead and low set shoe button eyes, reveal the shoulders are also high. The fur is synthetic, and perhaps the leather maybe a vinyl composite. The nose is cord, done in a horizontal stitch, and a small cord mouth. As an artist made bear, the price would be $75.00 as is. Bet he gives wonderful hugs!
Brenda

Hello Brenda. This 22" old ted has all the characteristics of an early one: golden brown mohair plush. Black shoe button eyes, hand-stitched nose, mouth, and 4 embroidered claws on each paw pad); elongated limbs, with curved front paw pads/arms spoon-shaped at ends, and teardrop shaped back paw pads/pointed feet. Wool felt pads; humped back; round head with sewn-in ears, and nicely formed snout; rotund tubular or football type torso; front seam closure; firmly excelsior stuffed; fully five-way jointed; and no voice box.
All features appear original. Thanks for any insight you might provide as to maker and time frame of production. The bear's pedigree was advertised as American. Mary

Hi Mary,
What a great condition teddy bear! He is most likely German instead of American, with the pointed footpads, and hand closed finishing seam on the front. He dates to the 1920s, probably from the Neustadt area of Germany, near Coburg. His mohair is in great shape, with excelsior stuffing holding him together. Johann Hofmann were mostly bear makers, but they also did cloth animals. The eyes are sewn inside the head seam, with shoe buttons and a slight upturn to the hands. The torsos were long, like yours. They were also known for the pointed footpads. Ears were cupped and large. The entire family worked in the industry. Although business slowed after WWII, it was not until 1971 that production ceased. Value for your original 22" German teddy would be $2,000.
Brenda

I recently purchased a teddy bear from a Military base Thrift Store and I have never seen anything similar to this adorable bear. His unusual small eyes and the articulated arms and legs held on to the torso by buttons plus his big belly is what caught my attention. It looked like
it had a tag and was cut off.
When I bought it he was wearing a sailor top with a red tie around his neck, I removed them to wash and
I honestly think it looks better without the outfit. Not sure what materials but the stuffing feels a little stiff. hard and the fur/exterior is super soft. he measure 18" tall.
I'm so excited to know a little more about this bear :)
Reyna

Hi Reyna,
Your teddy bear has very unique traits, pointing perhaps to a very interesting homemade teddy!
At 18", he is considered more towards the large range. The very close together shoe button eyes have flashbacks to the early imported TY bears. No claws, no discernible paw pads, but a truly hand stitched nose and mouth! It seems the neck joint is the only replica characteristic towards the older bears, as most were jointed with either wood, cardboard or later plastic joints. The button fastening joint is very unique and a challenge to bring forth the articulated movement. This and and close together eyes, makes me lean toward the handmade teddy. The fur seems to be acrylic, soft yet called a faux fur. The seams are a bit primitive as well, with a heavy front body closure on the Pooh sized tummy. Ears are sewn into place and the face is able to accommodate his large body. The sailor shirt is sweet, and offers a dressed up theme. He is American, handmade, and perhaps has a combination stuffing…polyfill and excelsior. Value for your teddy is minimal compared to the hugs he gives. At any rate, $40.00 would be an appraised value.
Brenda

I was looking for an appraisal on my friend's bear. I saw one similar on your website. We do not have much information except: I got him when I left Africa in 1961 to come home to Scotland. He was given to me by all my friends there.
So I have had him for about 60 years. He is 24.5 inches long. He has glass eyes and
I believe is mohair. His nose is not plastic, and his stuffing is the softest thing I have ever felt. He has some damage on his feet.
Kindest Regards,
Sarah

Hi Sarah,
You have very sweet friends who decided to gift you with teddy, who is now vintage! At 24", he is considered large. His background is English, coming from the Chiltern factory. His fur is mohair, reddish brown glass eyes, worn velvet pads that are original, and over stitched claws still attached to the hands. When new all four claws were visible. The nose is a molded safety plastic with a mouth extension and septum drop. He has been well loved with slight areas of fur loss, hence this Hugmee series is very appropriate! Dating to the 1960s, he is quite a charmer. The stuffing is soft, not the hard excelsior. If you have pictures of both you and teddy, that makes the provenance! Increases the value by about 10%or more. As he is, value would be $325.00.
Brenda

PS. A talented teddy bear artist could repair the exposed paw pad and just need plugging on the rest. If you sew, you could try this repair, by looking for the correct shade and composition of material.

Hi Brenda, This little golden mohair teddy is about 6" tall, he is stuffed with saw dust or wood wool. His right eye is original and the left eye was replaced. He is jointed but has stiffened, no dry rot. His head no longer turns, his legs will move and the right arm a bit, left arm is torn and shows the disc joint which appears to be metal? He has no pads, his feet are rather long and narrow, turned up, probably from the way he was stored. He has remnants of a brown ribbon at his throat. He isn't in great shape but he is very sweet and sits nicely. I hope you can tell me more about him. Thanks!
Julie

Hi Julie,
You have what is referred to as a miniature teddy, at 6".
He is mohair, has disc joints with a cotter pin attached to anchor his arm to the shoulder. The stuffing is excelsior. Teddy is a German maker, possibly Strunz. The original shoe button eye and the other replacement is placed within the head seam. The cord nose is horizontal and the arms and legs have no pads, just seamed closures. The ears have a slight cupping. He dates to 1909+ and would also be referred to as a doll sized teddy. Made in the image of Steiff, Strunz had many court appearances to counter their likeness. Value for your little guy would be $300.00.
Brenda

Hello Brenda,
My bear is 10" tall. Can't seem to find anything like it.
He has a spherical round button approximately .5" inside his left ear, a red string mouth, and felt nose. John

Hi John,
Your 10" unjointed teddy bear was made like the crib bears were constructed, no hard joints! The plastic radiating eyes resemble those from the American company, Knickerbocker. They introduced teddies into their toy line by the 1920s.
This particular star gazing eye was used in the 1960s. It also explains the large round ears, soft felt nose and red cord for the mouth. The button is not a part of production for this unjointed bear, it may have been placed there by an owner. The over stitched seams, acrylic fur and soft stuffing were all safety features. This famous NY firm moved to NJ in the late 60s. They ceased operating in the 1980s. One of their famous bears was featured in the Shirley Temple movie, Now and Forever, in the 1930s. Value for your safety first teddy would be $45.00.
Brenda

Hello,
This is my mom's bear.
It is a bit beat up - no tags or buttons anywhere. 12" tall.
I thought it might be Steiff but has no ear tag. 5 claws on each foot, missing one eye. He has and embroidered nose.
Thanks for your assistance.

Gail

Hi Gail,
You surely do have an important teddy..it is American Ideal. This is one of the first ones, with 5 claws, shoe button eyes, sewn horizontal nose cord and short mohair. Morris and Rose Michtom had a stationery shop in NY. After hearing of Pres. Theodore Roosevelt's hunting expedition and boundary dispute in MS, the legend says they made teddy bears and offered them in their shop. We know the Ideal Novelty and Toy Co. was first operational in 1907. This Bear would be one of their first, possibly 1905. The wool pads are perfect, with the classic pointed toes. ideal had the arms low on the shoulders, the ears cupped and sewn on the side of the head. His condition is remarkable. So you have pictures of your Mom with teddy? Value for your 12" American beauty would be $1,500.
Brenda

Hi Brenda,
Here is a bear I recently found at a flea market in California. It has articulating limbs. It seems to have a voice box in the belly that is not working. Bear measures 16" tall.
Thanks
Gabriel

Hi Gabriel,
Your sweet find happens to be English, from the Chiltern Co. In 1919, Leon Rees inherited Chiltern Toy Works from his father in law and a business associate, Josef Eisenmann. Leon works with Harry Stone to form their H.G. Stone & Co. to market stuffed toys under Chiltern Toy Works. At 16"teddy is considered medium sized, was made of mohair and has totally articulated joints. He dates to the 1930s, with the small ears sewn within the head seam, and a slight upward turn to the pads. Known as the Hugmee series, this was a very cuddly group, and as seen from his mohair loss..he was very well loved. The eyes are clear glass, and the nose is vertically stitched with a wide mouth. Some of the eyes were red glass, while the nose at times had an upward outer stitch. The oval pads are original on the feet, while the hands are recovered. He sports three claws on each appendage. By the late 1960s, they merged with Chad Valley. Value for well loved teddy authentic would be $ 125.00.
Brenda

Hi!
I recently spotted this 14" bear for $20.00. The bear is disc jointed at the neck and limbs the bear is in really super shape. I would love to know who possibly made it there are a few missing claw sewing threads at the one paw and the feet. The bear came with the hat and coat which are both a bit big but still adorable to say the least. I am not too sure about the possible stuffing inside the bear is slightly musty nothing offensive.
I appreciate your time and knowledge Brenda
God Bless you!
Donald

Hi Donald,
Wow..nice find for a really great price! Your newest teddy is German, possibly coming from the Sonneberg area, by J.G. Escher and Sohn. Founded in 1890 their dolls were first, then the bears developed in the 1920s. No hump on the back, five way jointed and small ears slightly cupped ears were featured in their catalogs. With the slight turned up nose, short mohair, oval foot pads, four claws and a simple horizontal cord nose with a deep inverted Y for the mouth. I believe the stuffing is excelsior with the firmness exhibited. The muzzle is slightly shaven. The hand knitted wool sweater is a reminder of the original factory with their many dolls. The red and white hat adds to a circus feel as well. Foot pads seem to be replaced, while the wool felt hand pads are excellent. Shoe button eyes are placed on the head seam. Value for your 1920s, 14" teddy would be $350.00. Enjoy!
Brenda

Hi Brenda,


This gold mohair bear was bought at an auction and remains in his 'as is' condition. He took my interest as he has similar characteristics to my Grandmother's old bear, therefore very keen to hear your thoughts on his history. He stands at 49cm/19 inches, legs 20cm/8 inches and arms 18cm/7 inches. His body contains 5 joints and is filled with kapok. His head filling looks like fine cork chips.


All his paws have been recovered, but his original paw fabric shows through as a cream linen or cotton on top of cardboard soles. He has been loved and lived a life as seen on his poor old face with many a repair to his nose and eyes. Looking forward to your thoughts.
Kind Regards
Suzanne in New Zealand

Hi Suzanne,
This teddy at 19" appears to be American, and the cork stuffed head would emulate the Hahn & Amberg Co. of NY. The hand sewn finishing seam is located in the back, a trait that coincides with most of the American companies. I would date her (since it reminds you of your Grandmothers teddy), to 1915. American products were a bit behind the German makers in quality, for mohair and wool felt. She has been a very valuable companion to someone over the years, hence her almost total mohair loss. But, her backing is strong, and she has kept her joints! The slight cupped hands are also an American trait. Her nose could be carefully restored. She has nice pointed toes, and large cupped ears to hear all conversations. Her arms extend from a low shoulder. This company also made Eskimo dolls/Teddy dolls with mohair bodies and heads of bisque or celluloid. The original eyes may have been round shoe buttons, as opposed to the flat ones. She would be worth about $100.00 with slight repairs. Goldie is very sweet!
Brenda

Hello
I would like an appraisal of this bear that needs a lot of TLC. I really don't know anything about antique or vintage teddy bears.

I feel like I could repair him but need a picture of what he would have looked like since his nose and pads are missing. I got him from the flea market. he is

13" long, fully jointed
Bell in his right ear
Don't know if he's mohair or not. Thanks for your help.
Cathy

Hi Cathy,
Your American made Gund teddy bear is not mohair, but seems to be a wool plush. The muzzle probably matched the off white wool felt pads, and not the body material. The eyes are glass, and the stuffing in the muzzle and head appear to be excelsior, while the body is kapok. Over stitched seams were very common for Gund. Large cupped ears complete his profile. The bell must have been his "music". The joints are fully articulated. Teddigund dates to the late 1940s. Value as he is, $35.00, while a properly, fully restored example would be $125.00.
Brenda

Hi Brenda,
I recently bought this fella from an auction in his 'as is' state. I'm interested to know his age and history due to the lack of fur used in his making. He stands at 45cm/17.5" with a shoulder/arm width of 25cm/10 inches. He is a very stocky guy that is very hard filled with kapok, quite heavy. His head and paws are the only fur on him, with his body and legs made from fabric bursting into holes. He is not jointed but his head is hand stitched on along with his hand paws stitched to his hips. He has his original eyes which seem to be small patterned metal (possibly gone rusty). With pink cotton for his nose and mouth matching his chest buttons. There are various holes in his ears and feet probably due to his busy life! Thanks very much for your thoughts.
Kind Regards
Suzanne in New Zealand

Hi Suzanne,
Your interesting character teddy has a definite English appeal with the costuming and non jointed stance. Most likely favoring the Deans company, he dates to the late 1930s-40s. They made this style for many years, under the leadership of designer Richard Ellet. Located in London, Dean's Rag Book tags were attached to their plush bears from 1920s-1955. During WWII, they had a limited factory, concentrating on war needs. His stationery mohair head, with rust colored vertical nose and slight mouth extension, appears as a dignitary almost, with the blue wool uniform top and herringbone tweed trousers. The buttons color match his nose! Shoe button eyes, outside the head seam, and a velvet type covering for the inner ears, and pads. His hands and feet are also mohair. The stuffing is kapok, and excelsior, very firmly packed. There are no claws. They existed through world wars and many changes in leadership, but survived until 2015! Value for your "character" standing teddy would be $150.00 as is. An expert repair could be accomplished with a matching tweed, to increase the value.
Brenda

Hello,
My wife has had this teddy bear since she was a small child and we would like your thoughts on it's origin and market value. The fur feels soft to the touch and the color is golden or honey. We believe it is mohair. Bear is 14" tall. There are no tag markings visible. The nose is a dark brown woven material. The eyes appear to be glass.
Fully jointed. Paw pads are soft covers and have the appearance of woven claws.

We know the bear is at least 65 years old. It may have been passed on to her circa 1955ish. Her family heritage is Austria-Slovakia and it is possible the bear originated in that area, but that is a guess on our part. It is in wonderful shape for its age and has been well loved.
Patrick

Hi Patrick,
Your wife's childhood teddy is the famous one..from Steiff. This design is the "Original Teddy", with five way jointing, long arms and large cupped ears. He was made is the 1950s, and this design is the original one. In the 1970s they altered the head design into a heart shaped with a seven muzzle. Her teddy is in great condition, and any pictures of teddy with her would be an added bonus on the value. Steiff was formed in 1877, with Margarete being the main seamstress. Even with her disability of polio, and only able to use her right arm, with her left foot completely paralyzed and only slight movement in her right foot, she used the wheelchair and her religious dedication for success. Her motto.."Only the best is good enough for our children". At the time your wife's teddy was made, it had a button in the ear, with a tag, cardboard chest tag and a ribbon around the neck. He is 14", and has 4 woven claws on each appendage. The nose was hand sewn too, vertically with brown cord. The glass eyes have a painted back, and anchored in place. The wool felt pads are in excellent conditions. Value your German born teddy would be $350.00 and up, increased with provenance.
Brenda

Hi Brenda,

I'm curious who is the maker and the value. He sits about 1ft tall and weighs maybe a pound or two. Stout little bear. Look forward to hearing from you.

Mike

Hi Mike,
I like you called him a stout teddy bear! That is exactly why the Knickerbocker American bear was called…rotund! Made of wool plush, with wool felt pads and contrasting muzzle, he dates to the 1940s. The eyes are original glass, and he would have had a white fabric tag in the center front seam that read…Animals of Distinction/Made in USA with the reverse side identifying Knickerbocker Toy Co. New York.
The nose is vertically stitched cord, no claws. The pads are over stitched for the seam joining. He is five way jointed, with kapok on the body and an excelsior head. The ears are round, cupped and large. The inset muzzle matches the felt pads. Later examples had velveteen pads. Shirley Temple had this teddy as her favorite maker…she even appeared in
a film with him, calling him Grumpy. The 1934 film, Now and Forever, was a classic. That bear was a reddish brown mohair and in the 30s, it was a more slender teddy. Enjoy your American charmer, with a value of $175.00.
Brenda
Hello,
I am hoping you could evaluate a teddy bear that I believe is a Steiff. It belonged to my Grandpa's cousin who was born in 1902. She received it sometime between 1902 and 1907. The head, arms and legs are all moveable joints. There is a little metal button in the left ear that says Steiff. It stands just under 12" tall and still has lots of its fur left. The paw pads seem to be felt or suede-like material.
Thank you,
Julie

Hi Julie,
Your heirloom teddy, with the Steiff underscored button, is a classic! Steiff, being the ultimate German maker, has retained his glory! At 12", he is just a tad larger than the doll sized teddy. The button is from 1905- onward, with the blank button being 1904-05. A one year characteristic of 5 claws happened only in 1905. After that, four claws were apparent. He has some mohair loss, and stuffing has settled, but his wool felt pad appears in excellent condition. His upturned nose is quite impressive!
The long arms, and large feet were early traits. His hand closed seam is in the front. The nose is perfectly stitched, with the mouth extension. His value would be $800.00 as is. Nice!
Brenda

Hi Brenda,
This bear has been in our family for many years and as you can see is in poor condition,, it's 17 inches tall when standing, straw filled with jointed arms legs and head all joined with disks that I can feel,, it also has a hump on it upper back,, we have always been curious where it originates from?

We are based in the United Kingdom.
Many Thanks
Gary

Hi Gary,
So wonderful that you have kept your family teddy for years! He originally was from Germany, made by the Edward Cramer factory located in Schalkau. The characteristic trait of these bears is the facial mask ( a heart shaped muzzle, usually of a contrasting color). He dates to the mid 1920s, made of mohair and excelsior stuffing. He is five way jointed, is 17" in length, has long arms and large feet. The original pads were probably wool felt, the nose was vertically stitched and a large smile followed from the nose septum. His original eyes were glass with painted backs and located right outside the seam of the muzzle. He exhibits the German hump back, with arms placed under the shoulder area. They did many circus pieces, and with the contrasting mohair this could have been a clown teddy. What is wonderful about this company, is that family has been running the business. They had triangular ID hand tags attached to the chest, with the trademark Educa. Four claws were the rule on each appendage. They still make teddies with attention to the quality. Some of the teddies had an embroidered mouth done in red cord. He is worn, but still has class. Value for your heirloom teddy would be $200.00. He could increase with slight restoration. Brenda

Brenda,

Partnering with a friend of a friend selling his mom's doll collection. She passed in the 1980's and assembled an amazing collection of over 500 dolls. She kept meticulous notes about her collection. Unfortunately this one fell through the cracks and we can't find documentation. Thank you!

Bob

Hi Bob,
Your pictures are great, letting me see the wire jointing, felt pads and simple gathers in the arms to cover the seam closing. He is an early Japanese model, made with short bristle mohair, thin armature, and small defined feet. The original shoe button eye points to the 1920s for his birth. The horizontally stitched nose is simple, with an cord extension for his slight smiling mouth. At 14", he is medium sized bear, a perfect companion for dolls. The hand wool pads are larger to permit the slight outward appeal..offering more character. The three cord claws are intact, a marvel for an antique teddy bear. His tummy is rotund and provides a great sitting posture. Japan moved into the battery operated toys in the 1950s, and away from mohair. These were acrylic, but many were based on teddy bears. They also did the " Penny Bear", during this era, offered in a plastic bag, with wire jointing. Value for your not commonly seen Japan bear would be $200.00.
Brenda

Hi Brenda,
I found this bear at a second hand store. I fell in love with his teeny tiny head. He is 14 inches tall and his head does not move. His limbs are slightly moveable. The bear's fur reminds me of a Berber carpet. I believe he has some heavy, crunchy material in his bottom so he can sit upright.
He has no visible wear. Thank you for your time and this service! Looking forward to your thoughts.
Terry

Hi Terry,
What an unusual curly teddy with extra long arms and legs! He is an artist teddy, with an inset muzzle and small side ears and a homespun feel with the checkered neck scarf and bean shaped body. While his head is non jointed, the arms and legs seem to move, with string joints. He has an antique linen herb label sewn onto his tummy..most likely his name- "Butternut"! It comes from New Lebanon, NY, where a Shaker Society was established in the late 1700s to honor their beliefs and way for living. We have a similar notable Shaker Museum here In Cleveland..honoring the simple life. Shaker furniture was and is still very admired. Minimal was a theme, and organization a key to living. The hand crafted teddy seems to appeal to all with his nutmeg type fabric, simple horizontal stitched nose and shoe button eyes placed high on his forehead. He is a nubby bear with a relic of the Shaker Society attached! The label itself could sell for $25.00, original linen! The teddy is an original design too, perhaps with the Shaker simplistic style. His value would be $45.00, increasing the total value to $70.00. Love his provenance!
Brenda

How much is your
beloved bear worth?

Ask Brenda Yenke

Appraisals are $20.00 for each item. (Bears, stuffed animals, vintage toys too)

Use PayPal (link below) to pay.

Send your bear photos to:

Please include as much information about your bear as possible: size, how it was acquired, various poses, and send 5-12 photos attached to the email. Please do not inserted photos in an email text. Thank you.

---

Do we have permission to show your bear
on this web page?

Only your first name will be published.
Please give us permission when you send your
photos in your email.

---

Available: Evaluation Certificate

Document contains a photo of your bear, the email request from you describing the bear, and the appraisal by Brenda.

The Evaluation Certificate will come to you in a pdf format for you to print and keep with your beloved bear.

Certificates are $10.00

for each bear.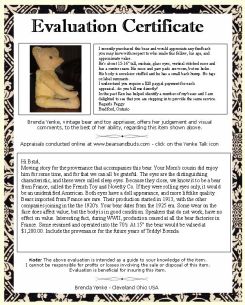 OR after a paid appraisal, should you wish an Evaluation Certificate, please use this PayPal button for ordering.
Please state the name of the bear in the comment box.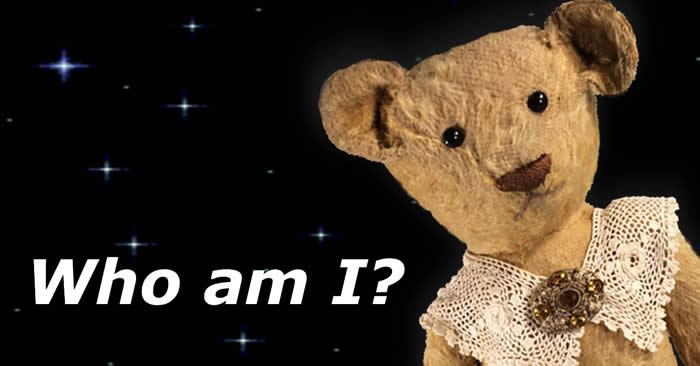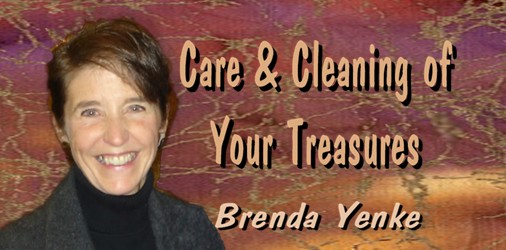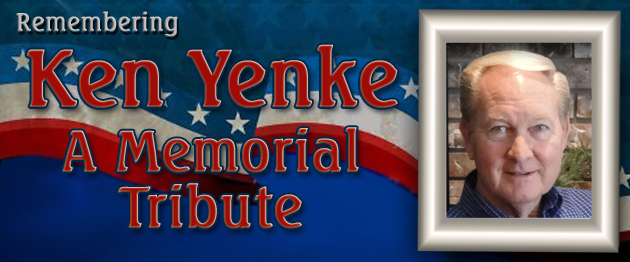 Collectors - if you like reading articles like this, why not subscribe to Bears&Buds?
---
Just $20.00 a year. You'll receive a collector's lapel pin and a password to enter the Collectors' page where you'll find more wonderful articles..
---
Artists
-

would you like to be seen by our worldwide readers each month?
Become a Professional Artist-Member of Bears&Buds today!
Your membership password will take you to the B2B section loaded with selling, making and how-to ideas.
---