Ken with his father and his
brother and sister.

Ken's family - he always dressed to the hilt back then!

Ken dressed as a Super Hero.

Ken with his Mom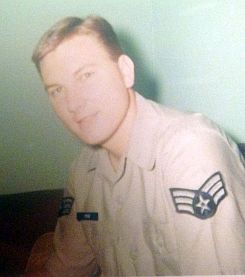 Ken entered in 1963 right after high school, both his parents were deceased, and served in the United States Air Force during Vietnam. He married Brenda in 1965. Following his discharge in 1967, he began working with Remington Rand in sales and attended Butler University in Indianapolis for a few years while managing the sales force.
He was encouraged by the home office of Sperry Rand because they knew his potential.
In 1973, he was called from the home office of Sperry Rand and moved to Blue Bell, Pennsylvania to become the world-wide product manager. Ken specialized in the SR101 typewriter and launched the program throughout the world producing training tapes and traveling extensively.
Being very successful in Cincinnati gave him the opportunity to manage the sales force with Remington in Indianapolis.
Two years later he took over the Remington franchise in Middleburg Heights, Ohio which he ran until it merged with ACS in 1986.
Following that he later worked for Ohio Calculating.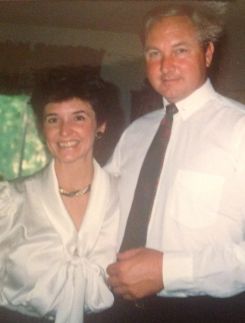 In 2000 he began working for Sun News in advertising sales. It was at that time that Ken began writing his column, The Yenke Peddler, imparting his knowledge of antiques.
In 2009 Ken's career started at The Plain Dealer Newspaper, continuing his executive advertising position. NEOMG was his last employer.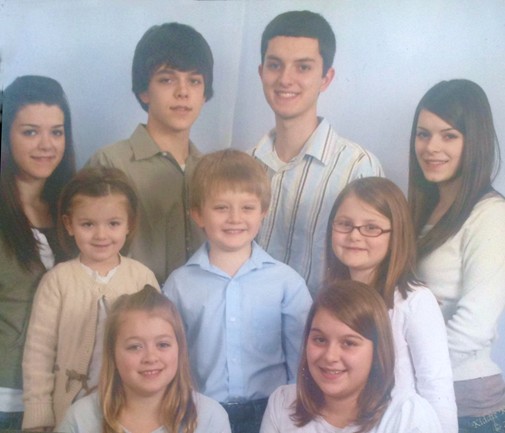 Ken and Brenda's 9 grand children;
is that a "little Ken" we see in the blue shirt?
---
Ken authored three teddy bear resource books and was also a columnist for Teddy Bear & Friends Magazine and contributing writer and bear appraiser for Bears&Buds, the online teddy bear magazine.

He was awarded the Theodore Society Ambassador Award by Teddy Bear Review Magazine.
In his spare time Ken was an avid golfer
and a baseball fan.
Ken will remain in our hearts and we'll have fond memories of him. We will miss his smiling face.
Ken was laid to rest at Sunset Memorial Park on Monday March 24, 2014. North Olmsted, OH (Cleveland area).