Meet Dud, he is a bear who is a little less than perfect.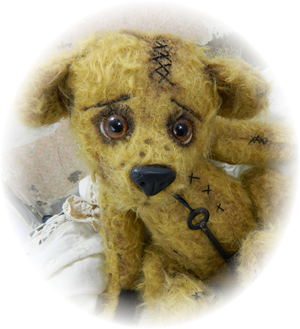 I thought your readers might be interested in his story and what is happening, as a result of a little bear living in Perth Western Australia.
I met Gracey about
a year and a half ago. He had started an organization called Art vs Depression, and after seeing some of my work, he asked if
I could possibly make him an ugly doll.
Gracy wanted to teach young people about depression along with other issues that even adults find quiet heavy in content.
He needed a vehicle to be able to introduce this important topic. I told him to leave it with me and I would do my best.
At the time, I was involved with the local Arts Trail program sponsored in our area. I took time to organize that and during the Art Trail a sweet incident occurred, with a bus
of elderly folk who had come to see my gallery of bears.
After the Art Trail concluded, I designed and made Dud, and handed him to Gracy. He was thrilled.
I asked if I could write his story based on what had happened during the Arts Trail event.
Gracy was delighted and encouraged me to write the story of Dud the bear who was a little less than perfect.
I wrote Duds story and Gracy presented the book to a local Primary school where it was received wonderfully. The school continues running the program for another year.
A lot of children have embraced Dud and he has helped them through some in very difficult times. In fact Dud was so well received that we needed to let him steer its own course and the Resilient Friends Club movement was born.
What we did not know was the effect he had on adults and teenagers too.
Here is the interesting thing; I am dyslexic and have a lot of other learning disabilities too. What Art vs Depression is showing people is the things that some people deem as handicaps can actually be the things that make us special, not broken; and its OK to be a little less than perfect.
If you want to know more I am happy to answer any questions you might have there is a lot to the story and it's on going.
https://www.facebook.com/AVDwa/
https://www.facebook.com/groups/1796436023740885/
Yours truly,
Kay Cooper