First, in our specialized teddy bear artist's arena, imported miniature bears are not considered 'artist bears', they are manufactured bears. Each is hand made by an individual usually with production line, produced by many Asian and other overseas workers.
'Artist' teddy bears, by most accounts, are larger bears and were only developed in the 1980's by the Van Port family from the Northwest.
Teddy bear collecting is a relatively new collectors' market.

Artist bears are usually tagged OOAK (One-Of-A-Kind) and made one at a time or in very small, limited series; usually less than 5 or 10.
My work is 2" to 3" tall, sewn 20 stitches to the inch using vintage long pile, either Malden Mills' or similar fabric, turned right-side out, stuffed, extensively needle and scissor-sculpted, shaded by hand.
This is labor-intensive work on a 2" teddy bear may take well over one week to design and create: accessories and clothing all clock up extra time.
Before I switched to needle felting 2 and 3 inch, realistic looking bears out of wool fiber, I spent over a dozen years designing miniature fabric teddy bears.
Insetting paw pads, hand-sculpted noses, yes-no mechanisms, specialty studio techniques for jointing and other trade secrets, which set each artist apart, all add to the time it takes to create these tiny treasures.
And unlike the artists who have the space in standard-sized bears, in which to work out all of these features, we miniaturists must make all of them work and look natural and in perfect proportion and scale and all within fractions of an inch!
Manufactured miniature bears have been designed by many leading artists, then mass produced overseas for sales on QVC, Home Shopping Club, etc and carried by major retail outlets. Each bear started out as an artist's prototype.
And while manufactured bears do have a place on teddy bear collector's shelves, tucked in between their OOAK Artists Bears, many bring joy to those who can't afford the OOAK artist bears. All bears continue to enthuse the collecting spirit.
Beanie Baby-type animals helped stimulate the interest in collecting, as they foster a love for these tiny treasures and as a child's taste matures, they may seek better quality and begin to look around and upgrade to collectible artist bears.
Their education will come through Internet searches, attending teddy bear shows, trade magazines and eBay sales.
In person contacts are always the most pleasant, as teddy bear artists and collectors meet face-to-face and lasting connections are made, with a new horizon opening up for both.
Our grandson gifted me with the grey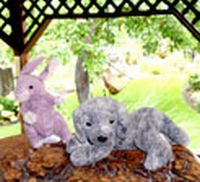 manufactured Pup from his collection that now sits in the sun room window along with its Bunny friend, because 'Grandpa and Grandma need a dog.'