Word Use
The Correct Way
=====================
posable is not a word. please use can be posed or to pose
---
Use the word tall behind the size.
Fuzzy is 12" tall.
---
Say what the piece is:
fuzzy is a 12" tall bear.
Fuzzy is a 12" tall bunny.
Fuzzy is a 12" tall cat.
---
bendy is not a word. Please use the arms or legs can bend
---
ultrasuede is spelled:
Ultra-suede
---
do not use "&" - type the word and
---
w/ - type the word with
---
appox. type about or use the real measurement and not use the word "approximately"
---
Using words like beautiful, luxurious, fabulous, wonderful, cute, darling, sweetest, adorable, precious, dazzling, gorgeous, delightful, etc. are sell words.
Just describe your bear well without the hype.
---
Double spacing is for typewriters -- does anyone even own one?
Computer web pages do not like double spacing between sentences and besides it uses up a lot of memory bytes.
---
Use ! (exclamation mark) very sparingly. One will do just fine!
---
one of a kind -- type like:
one-of-a-kind or OOAK
---
perle - type Perle
---
rovings --
Roving is not a plural word.
---
Do not use lots of periods ....... instead use . . . or place a comma or semicolon to separate your thoughts.
---
5-way jointed is the correct way to type it.
---
Please use the symbol (") for the inches.
Example: Bear is 8" tall instead of the word inches.
Naming your photographs.
Please use part of your name or business name plus the bear's name.
jpg photo titles no longer than 15 characters and no symbols other than _ Underscore or - hyphen.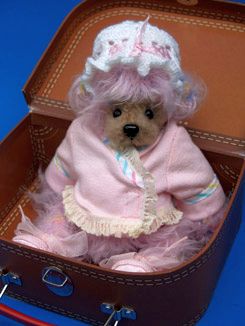 Example this bear photo is titled: Bearkidz-Celia.jpg
Do not use symbols in naming your photos.
( ) parenthesis
' apostrophes
& ampersands
, commas
%, #, @ are not allowed either.
Do not put any lettering or company logo on the photograph.
---

Please do not use red, bright pink, orange or dizzy patterned backgrounds for your photos.
Cropping or sizing your photos.
When in doubt, please send the original uncut and we will crop and size it for you.
If you wish to help and can crop your photos very close and the correct size is:
245 pixels wide and 72 dpi.
For URSA large photo, the dimension: 500 pixels wide.
No logo or printed names on the photos.

eMail us if you have any questions.