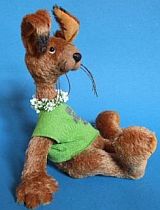 Bunyip
m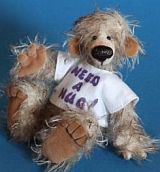 Need a hug!
m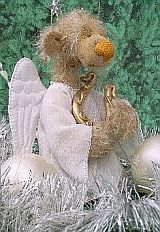 Angelino
m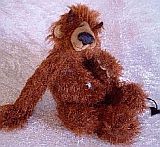 Diss
m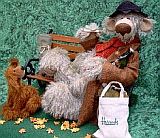 Down and out in toyland
m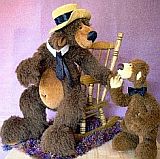 Friends

Noses and poses are important. Noses are just a matter of patience while the poses are a challenge. "I sew everything by hand, so it is a very time-consuming and labor-intensive process," she said. "Some of the bears have asymmetric bodies and differently positioned arms and legs, which requires a fair amount of experimenting and repositioning."
Maria's humor is evident. Even with her company name "Púca Bears."
"The Púca is a creature from Celtic mythology. It is a shape-changing and mischief making hobgoblin". With that in mind, Maria uses her vivid imagination to make different situational frameworks for her bears. Maria stated, "I have always been craft-oriented and have explored many avenues; knitting, sewing, embroidery, quilting, tapestry, and silk painting. I am just someone who cannot sit still and do nothing. I even dream bear designs!"
Born in London, England, she traveling extensively and now, Maria and her husband Jeremy, live in Wald-Michelbach, Germany. She has her roots deep in the earth. Really deep! She was a geologist by profession, but the craft world uprooted her.
Securing all sorts of craft-oriented jobs, such as hand-painting miniature cottages, making designer knitwear, illustrating books, and as Maria tells, "Probably the oddest of all, making fossils (a long story)."
She started making teddy bears in 2001. First inspired by great artists and cartoonists, she was really motivated after visiting a craft fair where she met bear artists for the first time.
Maria started her own bear making adventure with a kit, a few magazine patterns and a desire to learn. "I am still learning, experimenting and generally having great fun," she adds. All of Maria's bears are hand-made. "Each teddy bear is made with my utmost care and attention.
"I want the collectors to own the best bear I can make." Maria participates in a few shows a year, attending the Teddybär Total in Münster, All Bear Show at Wallau (near Wiesbaden), and the Hugglets shows. "I prefer bear shows, although