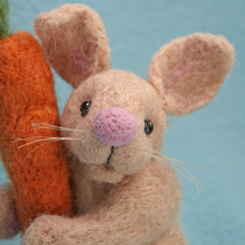 Belinda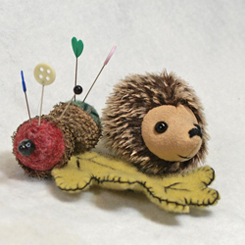 Hedgehog Blog Give-Away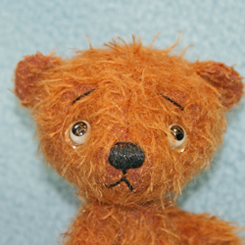 Carmello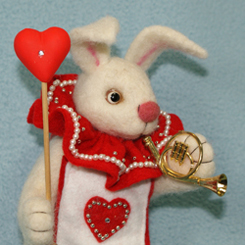 Knave
---
She can usually be found at shows either putting together a bear, working on needle-felting or showing interested collectors how it's done.
"I love the three dimensional aspects of needle-felting. It's no easier and no harder than mohair; just different. I do think it does take a certain spacial talent in order to visualize in three dimensions." But almost immediately, she felt comfortable doing the needle-felting. And needle-felting was a rapidly growing area in the teddy bear industry.
"It was somewhat new when I entered into it and people were fascinated. I am fascinated myself at how different other artist's pieces can look."
But life isn't just about teddy bears for Bettina and her husband. Their kids and grandchildren are a big part of their lives and they see them often. Plus her husband's new free time has opened new doors to new crafts such as stone carving and linoleum etching. They now both attend art classes, visit relatives and just "hang out"; spending time traveling as well.
Bettina's even embraced technology building her own web site and keeping two blogs going.
"Meeting and interacting with people all over the world has been very interesting. I have participated in interesting conversations, as well as giveaways, challenges and swaps." She's even become proficient using Photoshop and now processes her own digital pictures, created labels and enjoys the fun of digital scrap booking.
"All in all, I'm having fun with our life and still enjoying the world of teddy bears." Who could ask for anything more?
Bettina Groh
Glass Dragon Teddy Bears
Member since March 2007
The great thing about crafts is that in most cases, one thing leads to another. So was the case with Bettina Groh of Glass Dragon Teddy Bears.
Bettina had a love for stained glass and learned how to make pieces for herself.
"I've always loved stained glass and took a class in Rochester, NY. That was my main creative outlet until just after we moved to Missouri."
Currently living in Blue Springs, Missouri with her recently retired husband, Bob, they make their home not far from their two daughters, their spouses and children, and their son who lives close by in Tulsa, Oklahoma.
Bettina learned to sew from her mother-in-law who insisted that she learn. Her mother-in-law was a home-economics teacher and knew the value of sewing. "I made loads of clothes for my kids, niece and nephew." She recalled, "One summer I made more than 30 T-shirts!
I also made quilts, Barbie, GI Joe and baby doll clothes," adding, "You can't sew doll clothes for your daughters and not sew GI Joe something for your son!"
Bettina's first bear came into this world in the mid-1980's as a simple plush bear for her youngest who was a "teddy enthusiast."
Feeling pretty confident in her early bear making skills, she decided to take a couple to sell along with her stained glass work at a local craft show. She did well selling her bears and decided to pursue that avenue as it was more fun making teddy bears than the stained glass and it wasn't so hard on her hands and didn't carry the threat of lead poisoning!
She graduated to mohair in the early 1990's. "I can still remember the trauma of cutting into my first piece of $100 per yard mohair."
But she persevered and with the teddy bear business taking off, she made it her full-time vocation, putting out nearly 300 bears a year.
As one thing lead to another, so did her bear making. Needle-felting entered her life about 7 years ago when she took a class taught by Neysa Phillipi at a Bright Star Promotions show in Ann Arbor, Michigan.
That was where Bettina fell in love with needle-felting. "I've been mixing up my critters ever since and have been having a lot of fun along the way."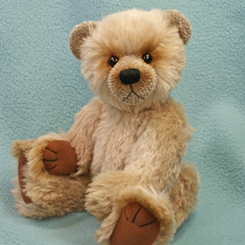 Boomer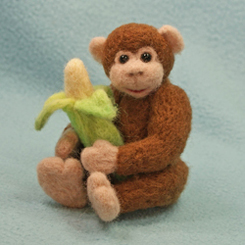 Charley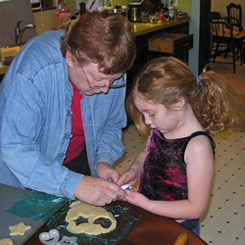 Bettina and granddaughter, Lili