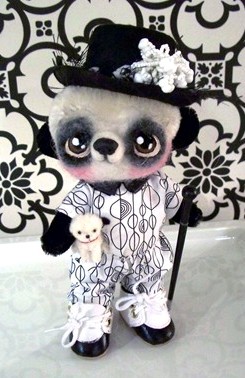 Anda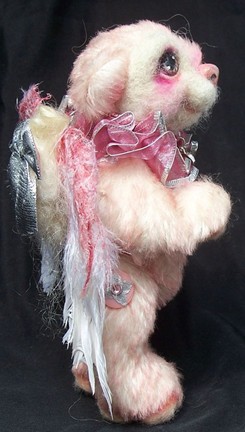 Angela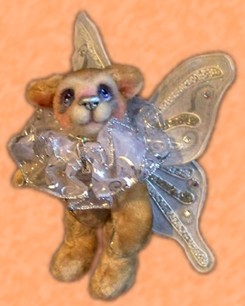 Blessing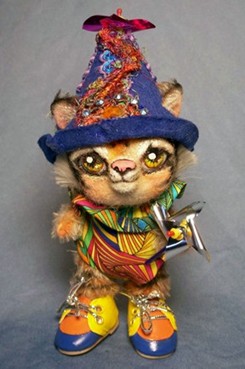 Rad
With fun in mind, Shelly began creating her Li'l LaFF! series which are jointed animals featuring open/closed mouths with painted tongues and teeth. Most are fairy animals with hats or crowns.
"I love needle-felting character faces on jointed bears and animals."
Another project she's working on is her Lil LaFF's, which are little, jointed dragonflies. "They have bouncy Superflex polymer sculpted eyes and noses and her Lil's LaFFs! are half the size but with twice the "bling."

When Shelly isn't working, you might find her on the boat with her husband, Jim and three children, Ileane, Isaac and Aislynn. They also pitch in by allowing Shelly to bounce ideas off of them or participate in brainstorming ideas.
Working from her studio in West Bloomfield, Michigan, Shelly likes spending her time in her neighborhood between many lakes.

"Even when I went to Kendall College of Art and Design for Illustration, the Center for Creative Studies in Detroit, or when I lived in Florida, I have never lived far from water. Whether or not I am in water recreationally, it must just be a part of my soul."
Categorizing Shelly is much like nailing down water. She's flowing along touching the hearts and funny bones of all who see her work. With a growing number of awards and collectors, Shelly is making fans of her work.
"In my opinion, the most exciting event happened when exercise guru, Richard Simmons, commissioned a surprise piece," Shelly recalled excitedly.
"We discussed his interests over the phone and the result was his tap-dancing Dalmatian, Prissy. Richard was thrilled," she recalled.
"Richard is still very supportive of my work and now wants to see me write a children's book and use my pieces as illustrations."
Input from collectors sparks Shelly's creativity.
"I've been listening to my collectors and they seem to really like the smaller creations with special features and lots of "bling!" I try to make them easier to adopt by offering layaway," she said.
"And with this economy, my new motto is "Everyone Deserves a Li'l LaFF!"
Maybe even you!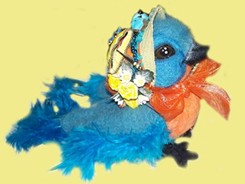 Blue Bird of Happiness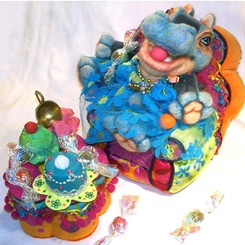 Hungry, Hungry Hippo
Shelly Lampshire
Shelly Lampshire Originals
Member since Dec. 2009
You have only to look at the faces of the creations around her to know that Shelly Lampshire is driven by her art and her sense of whimsy.
Billing herself as a "one-woman art show," Shelly uses mixed media to sculpt and create her fantasy pieces.
On weekends, Shelly can be found using a different type of media; the
human canvas. A skilled face painter, she travels around the country doing events such as birthdays, bah mitzvahs, corporate meetings and festivals.

Face painting helped her become not only prolific in her painting skills but also taught her the gift of speed.
"As a face painter, I must overcome what seem like impossible numbers speedily while being proud of each and every painted face that walks away. I have been doing that happily for 18 years."
Shelly hails from a family of antique dealers. "Everyone collected something. You could not have everything, so you had to be selective and keep just what you liked best," she recalled.
"When I was very young, my parents bought me pieces for my collection that were more investment than enjoyment," she commented.
Drawn to the more "outside the box" concepts, she decided to use her talents to start creating things she could never seem to find. "I wanted animals that were not stiff and looked semi-realistic; I wanted to adopt friends that looked like characters I saw in fairy tale book illustrations."
Inspired to create pieces she dreamed of that would fit with carousels, kaleidoscopes and the circus, she started toying with her characters in 2000. She won blue ribbons at the Kansas City Art of the Doll and the Michigan Doll Makers Guild Show for her figurative work.
But it was her first bear named Blessing that gave her the impression that a wider audience was waiting for her animals.
Blessing was born because Shelly found some mohair fabric in an estate sale box and was eager to try it.
"I was so happy with the results and found that my previous experience in doll making was very helpful." Her pieces are still part animal and part doll.
After making and selling about a dozen bears in 2004, she sold her collections and reworked a room in her home that was once dedicated to her collections, to turn the space into a 12' X 12' working studio.
"My one-of -a-kind work was worth more than manufactured pieces that I could re-buy (no matter how old the collectible). Bit by bit I sold my collection on online and paid the bills to keep me afloat so that I could concentrate on creating."
Shelly took painting jobs where she could, but mainly stayed up late at night and worked on her new lines.
"I quickly found out that finishing a piece successfully was not really finishing it; that photography, graphics, written copy, online promotion and submissions to magazines are all steps in getting the right piece to the right collector." She continues selling on an online auction site, gathering fans that are then directed to her own web site.
Her company "LaFF!" has become an acronym for so many things; Lampshire Fur & Fleece, Lampshire Flexible Figures, "Lampshire Fantastic Face painting, etc. "I love affirmations like "Live, Love, LaFF! The world can be so negative and I want people to remember my web site and have the feeling that it's just what it sounds like; a tickle. I am selling fun."