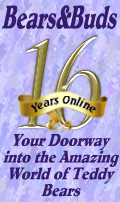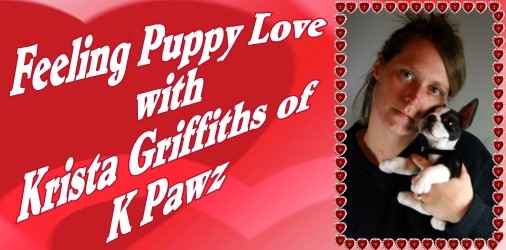 February 2008
Inspiration for K Pawz Creations comes easily for Krista Griffiths. As the secretary for the Greater Animals' Crusaders in British Columbia, Krista helps foster animals, provides hospice care and a loving heart to animals in need.

Krista lives in British Columbia, Canada, with her husband, multiple cats and two rescued dogs. Before becoming a bear and soft-sculpture artists, she was a member of the Canadian Navy working as a sonar operator and member of the ship's boarding party, complete with side arms. After injury sidelined that career, Krista ventured into a new rewarding venue becoming a full-time stay at home soft sculpture artist.

"I was drawn into the world of teddy bears when, by chance, I walked into a little off-the-wall store one day, and to my surprise, it was full of bear making supplies and patterns," Krista recalled. "I was hooked from the very first one and haven't stopped since." After initially working with commercial patterns, her desire to create her own patterns took over and she's began designing her own.

"I started making teddy bears in March 2006, but found out quickly that making someone else's pattern just wasn't challenging me enough." She continued, "Not to mention that I could never get them to look like they were supposed to!"

Soon Krista was bitten by a new bug. Puppy love! In December 2006 she designed her first puppy and in early 2007, she designed her first kitten. "Since then, I have had puppies and kittens on the brain." She still throws an occasional realistic bear into the mix, but gravitates more towards her realistic pet creations.

"All the real life animals I have had the honor of knowing, have special stories to tell and I try to take all the love they gave to me and put it into my creations to pass on for all to share."

"My realistic animals are very intensive. I adhere to breed standards regarding size, distinguishing features, as well as personality." All of this is evident when looking into the eyes that have that special spark.

The realism of her creations has had humorous results on those who have seen them. "I was working on a German Shepherd puppy and had just finished the head. The ink was still wet and I had received a phone call that someone was coming over to drop something off at my house," Krista recalled. "I needed to find a place really quick to put the semi-wet puppy head to keep it away from all of my pets. The vase on the mantle seemed like a good place to me." Krista's visitor came over, caught a glimpse of the head on the mantle and almost fainted. "It took her a few moments to compose herself, giving me time to explain what it was, and even longer before she would actually take a closer look!" she said smiling. Her advise now is if you are working on realistic animals, don't place the head in a vase on your fireplace mantle if you've got company coming over.

Selling mainly through online auctions, Krista also does special orders for people who want to capture the essence of their beloved pets. "I have just now started to take on custom orders. There is a really long wait list already, but I just love being given a picture of someone's precious pet, and having it come to life in my hands for them." At this point, Krista is only taking orders for actual pets that collectors own, whether they are alive or already crossed over the Rainbow Bridge. She knows that her creations will be there for all the hugs and love that her collectors have to give.

Keira

Benjamin


Mercedes

Krista Griffiths
K Pawz Creations
Member since June 2007