Online, Monthly Teddy Bear Magazine
10th Annual
Hong Kong Teddy Bear Contest
The Hong Kong teddy bear artists have been busy designing, making and creating outfits for their bears to wear in the annual contest. The entries this year showed the Hong Kong bear makers were very creative.
Bears and their friends were entered in 7 Categories by advanced artists to very young beginning bear makers (ages 14 and under with one 5 year old contestant). They all enjoyed completing their entries.
Everyone has a dream of having the winning bear. Hong Kong is a very busy city, many people work more than 10 hours a day. This does not leave much time for people to sew and make handicrafts.
By sponsoring this contest the citizens of Hong Kong are learning about artist bears as most think a bear is only a toy and not a work of art.
I teach bear making classes and even organize this yearly bear contest which is always a hard work. I often hesitated to do that, but on the other hand I told myself, I have the support from the VIPs in the bear world.
Our Judges send me warm emails, commenting on the Hong Kong bear makers are doing better and better each year.
Gloria Chan
Gloria Handicraft Studio
Member since June 2009
Class: Hobbyist Dressed Bear or Friend
HD 01 King of Mongolia

Champion

Shu Siu Ping

HD 02Flower Fairy

2nd Place

Jo Shuen

HD 03 Dancer

First Artists from the Mainland

2nd Runner Up

Gigi Chan

HD 06War Correspondent

4th Place

Patricia Ho
Class: Hobbyist Innovative Bear or Friend
HI 02

Birdy Bear

Grand Champion

Lui Wing Hung Cherrie


NI 03

Nail Artist

2nd Place

Polly Wong

HI 04

Peanut Bear

3rd Place

Connie Lee

HI 01

Friends

4th Place

Flora Lai
Class: Designer Collection

Classy Ladies # DC 003

Designer's Collection - Champion.

Dilys Pang received the trophy from HK judge Erik Cheung


DC 002 Twin Princesses

Designer's Collection Artist Dressed
2nd place
Chow Suk Ching

DC 001

To Respect the Fashion Designer and the Painter

Designer's Collection
3rd Place

Cheung Hei Laam
Class: Artist Dressed Bear
AD 005 Goddess

Artist Dressed

Champion

Chow Suk

AD 001 Roonie and AD 002 Diana
Artist Dressed

2nd Place

Idy Law

AD 009 Angelina

Artist Dressed

3rd Place

Dilys Pang

AD 003 Winter Lady

Artist Dressed

4th Place

Marcia Mo



Class: Artists Innovative Bear or Friend
AI 07 Lion Dance

Champion

Angela Yip


AI 02 Google the Yorkshire Terrier

2nd Place

Lanemaria Ho


AI 04 Arctic Fox

3rd Place

Flora Lee




AI 05

Golden Chicken

4th Place

Yau Ka Yee
Class: Youngster Dressed Bear or Friend
YD 05 Black Princess

Champion

Cheung Hei Laam

YD 04 Aries

2nd Place

Wong Ka Yuet

YD 01 Kyra

3rd Place

Jacqueling Lau





YD 02 Mi Mi

4th Place

Yoyo Ho
Class: Youngster Innovative Bear or Friend
YI 06 Happy Prince

Champion

Roy Lau (young boy)

YI 01 Innocent

2nd Place

Katie Chan

3rd Place

Chan Hei Yu (age 5)

YI 05 Little Zin

4th Place

Coco Tsang
Note from Gloria:
Dear All,
Thank you very much to the generous of Ms. Valerie, She gives us the contest page and HKTBA Winners' page every year.
Congratulations on your success. Keep up your good work!
We are looking forward to welcoming Ms. Valerie at the 11th HK Teddy Bear Prize Presentation Ceremony as she is planning to visit Hong Kong and Macau to meet the bear artists in January 2016.
2015 will be a busy year for all HKTBA members. New projects, exhibitions and lessons too.
God bless your family and you. Bless HKTBA to work better and bring more bear making lessons to schools. We received inquiries from school teachers about conducting bear-making lessons for pupils.
Wish you all have a prosperous New year.
Cheers, Gloria
Meet the 4 Judges.
Helga Schepp, Germany
Lamberti Scilla, Italy
Erick Cheung, Hong Kong
Valerie Rogers, USA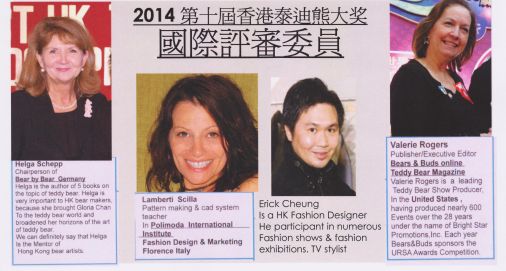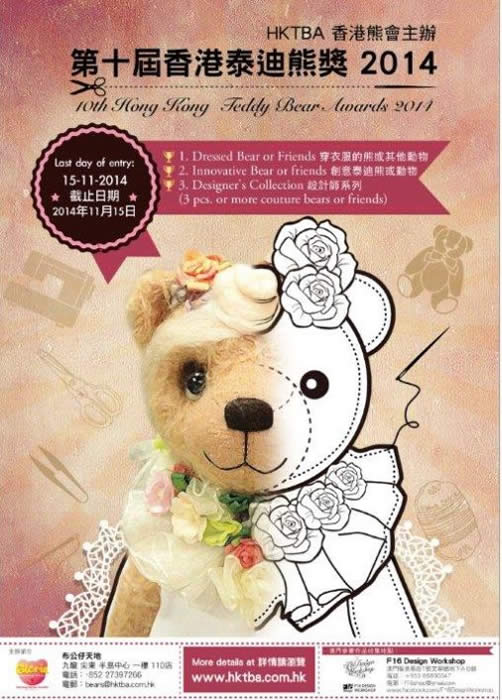 ---
Collectors - if you like reading articles like this, why not subscribe to Bears&Buds?
Just $15.00 a year. You'll receive a collector's lapel pin and a password to enter the Collectors' page where you'll find more wonderful articles..
---
Artists -

would you like to be seen by our worldwide readers each month?

Become a Professional Artist-Member of Bears&Buds today!Advertise FREE ! Your membership password will take you to the B2B section loaded with selling, making and how-to ideas.
---


Home • Contact Us • Classified Ads • Join Bears&Buds