CALLED:
Blades/Cutters/Knives
BLADE CUTS/SHAPES:

Straight, Scallops, Waves, Tiaras, Pinking, Perforated

(Tear-aways)

USES:

Paper Cutter

Crafts (Paper/Cloth/Leather/Wood)

Herbs/Gardening/Forestry

High Density Foam

Corrugated Boxes

Plastic Tapes and Film

Food Commercial/Industrial

/Domestic Uses

Medical Field

Construction Industry

MATERIALS:

Tungsten Carbide steel

Stainless Steel

Carbon Steel

Steel alloy

A11 Tool Steel

Zirconia Ceramic

BRANDS:

Many brand choices:

Olfa

Fiskars

Omnigrid

Gingher

June Taylor

Clover

Olfa blades are the choice of most who work with fabrics, as the blades stay sharper longer and the replacement blades fit most other brands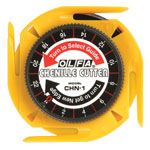 Chenille Cutter
When first presented with Rotary Cutters & Mats as a subject, I thought, "Well, I know nothing about these, except that I own some, so it's a good opportunity to learn."
Being a "Tool Gal", I have to have at least one of everything, just in case. I will admit that I have never used these in my bear work, as it Is really difficult to cut out body parts of a 3" miniature bear with something as clumpy and imprecise as a rotary cutter. Let me rephrase that: rotary cutters do an excellent job of precisely cutting through several layers of fabric or paper. It just does not handle vintage long-pile upholstery fabrics and tight, concave inner corners that well.
However, business tags and cards, handmade boxes for presentation cutting fabrics into ribbons for wrapping - all of these are most expeditiously handled with a rotary cutter on its protective mat.
Google was my first stop. What a surprise to find the first few entries advertising John Deere® and then Rhino; Born to Lead® offering "over 50 different basic rotary cutter models with hundreds of possible feature combinations to fit most applications", though no models are described.
Never one to be thwarted by a lack of information in a company's sentence, I delved deeper - to find that these are for brush and landscape mowers! Apparently, the industrial world does not think in terms of fabric and paper as we do! Back to Google...
I will interject here that originally this column was to include a Rating system; I have found it impossible to classify the tools I have been reading about during my research. What works best for me might be your worst investment. I will present some options that are currently available and let you decide.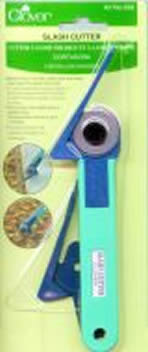 Slash Cutter
CONSIDERATIONS before Purchase:
1 Blade size = purpose 18mm - 60mmlarger through fabric, smaller for curves
2 Handle style - straight, ergonomic, padded softened (Softgrip®)
3 Will you work while Standing or Seated?
4 Safety: Latch closed for protection against accidents.Some more difficult to latch shut for those with tendonitis, arthritis, carpal tunnel, RSS Gingher, June TaylorSome spring-loaded auto closeTry each model in your hand - flip latch open & close match to test ease in use
5 Is the style adaptable for use by both right-handed people and/or lefties?