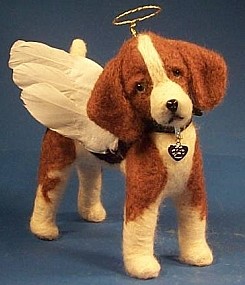 Beagle Angel
Within the heartland of the U.S.A., in Kansas City, MO, Sheryl Morrow makes your home with her "three fur kids," a cat named Lucky, and two dogs, Shadow and Kayla. "As you can probably imagine, my household has never a dull moment with these three running around," she remarked. "They do fill my life with lots of joy, love and laughs every day."

Sheryl works full time at a publishing company, but found the time through the years to make gifts for family, friends and even some crafts she sold to co-workers. "I have always been a crafter by heart and nature and it seems to run in my family in many different forms."

Although she is fairly new at designing and creating her own bears, she started making bears about 20 years ago using a commercial patterns.

Later she pursued other crafting interests such as polymer clay which she has worked with for the last 13 years.

"Last year I taught myself needle-felting which I fell in love with," she beamed. "I am still felting today and have designed quite a few dogs that I have sold using this process."

Earlier this year, she was checking the Internet and ran across all the wonderful bears and buds that she had seen on auction web sites and individual web sites that all the artists were using.

"Well, a lightning bolt struck me right there on the spot and I then decided I wanted and could design and make my own bears and buds."

With some research on the Net and the purchase of some books, Sheryl started on her new adventure.

"I started designing and making my bears and buds in March of this year and I haven't stopped yet!" she stated excitedly. "I have enjoyed every aspect of creating these bears and they have been a great learning experience for me in more ways than one." With so many techniques out there to learn and so many more new creations, her creativity ran wild.

All of her bears and buds are designed by Sheryl from start to the finish with the added touch of completion when they get a sniff or nudge of approval from her fur kids.

Even with her full time job, she manages to find the time to design and sew. "It's funny that when designing my patterns, I find it very easy to do them on my work lunch hour while enjoying lunch too. I find it relaxing to take pencil in hand and whip up a bear pattern in an hour because when I get that idea in my head, I have to get it out."

When Sheryl gets home, she may modify and add the finishing details to the pattern. "I am sure my friends at work think I am a little bit crazy and they find it interesting to see what I am doing at lunch. I always bring the finished creation back to work with me for a visit."

Sheryl finds her friends are a very big part of her design process. "They give me advice, ideas and suggestions, along with a lot of moral support," she smiled, adding "without them, a big part of me would not be the artist I am today."

On a roll since March, she has designed 20 new patterns using her web site and online auctions to sell her creations. Sheryl doesn't consider herself to fall into one niche of design.

"I like all types of bears and dogs so, I have created a few different styles to appeal to many different people. The one thing that might stand out in all my designs is that I love to use polymer clay for their noses."
She continued by noting that "all the colors and different effects can be achieved with the polymer clay and it will be in some form on all my bears and buds."
Sheryl has always loved bears; the calmness and comforting effect she feels they have on her. So she has amassed a collection of bears that include figurines, bear plates and other accessory items. But with various hobbies in addition to her bear making, she also collects craft items such as fur, buttons, beads, scrap booking supplies to name a few. "If I really got all of it organized, I would have my own craft store!"
With growth comes change and Sheryl is changing her business name from "Gone to the Dogs," to "SM Designs" to reflect the medians that she works with. "My love of all animals is a hugh passion of mine and incorporating them in the art medians that I work with is what I truly enjoy doing. I get so much joy in creating and watching raw materials spring to life from my own hands and that they also bring joy to someone else's life, makes me feel truly blessed."
Though Sheryl is in business for herself, she knows that those around her add the support she cherishes. "I would like to thank my family and co-workers for their love, support encouragement and ideas. Without them, I would not have had the opportunity to pursue the crafts that I love and enjoy. They, in addition to my collectors, helped me be the artists I am today and for that, I am truly thankful."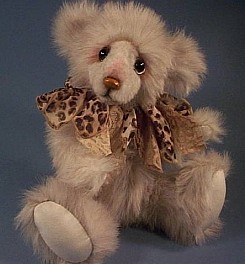 Gretchen