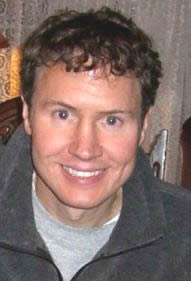 In Dave's Words:

'Living the dream' to me is that I get to work for myself doing what I love to do: programming computers and dealing with music.

I have no boss, I make my own hours and I call all the shots. As long as I have Internet or BlackBerry access my job is independent of location, so I can travel as much as I want since my businesses, all being Internet based, operate mainly on their own. This leaves me time to peruse other interests such as traveling and creating new business ventures.
On top of having an amazing girlfriend, Natasha, a work life, I am healthy, full of life and surrounded by great friends here in Cleveland, Ohio.
I live in a beautiful Victorian home where we raise chickens and have honey hives.
I host many theme parties. It is also the perfect venue for Halloween, my favorite holiday of them all.
I can't think of anything else
I could be doing that would make me any happier than I am.

So for all those reasons, I feel like I am 'living the dream'.
Dave has been programming computers since 1983, when his parents bought him a Commodore 64 computer. "I taught myself programming and created different video games and software. My parents complained, as most do, when I would tie up our phone line for hours on end, signing onto different local Bulletin Board Systems which were very early versions of online forums; pre-Internet by 10 years." Dave said.

Dave continued his education and graduated in 1995 from the Ohio State University, Columbus, Ohio with a Bachelor's Degree in Computer Science Engineering.

A neighbor, who was into acquiring artist-bears introduced Dave to teddy bear collecting. "He asked me to help develop software," began Dave, "to make updating and managing his bears easy to do online. From this software, I adapted it to allow all bear artists to add and update their own listings online."
Dave was impressed with the quality and artistry from the various friendly artists he discovered at Bright Star Promotions' Cleveland show in 2000, that he continued to modify his software program and launched Bear Pile from it.

Dave's vision for this type of software would lend itself to all sorts of industries. Dave is often approached by companies who want him to modify his software to accommodate their marketing needs, such as: medical supplies, cars, DVD's, videos, and a variety of collectible hobbies. "But there just isn't enough time to implement and promote or license this software right now," he said. Dave holds a registered patent on his real-time database uploading software. This software allows his web site users to upload and maintain their own inventory.
| | |
| --- | --- |
| US Patent | 6,636,861 |
| Dave Stack | October 21, 2003 |
Real-time database upload with real-time column mapping
Abstract
A method of uploading and processing database files of varying file format and column ordering from a client machine to a server machine for storage in a centralized database having a predetermined file format and column ordering is provided. The method includes configuring a database information profile, which includes the file format and column ordering of the database file to be uploaded. Optionally a test upload is performed and upload feedback is received by the client machine. Upon a successful test upload, the database information profile and corresponding database file are uploaded to the server machine. The uploaded database file is parsed line-by-line and column-by-column and mapped into the centralized database in accordance with the fixed format and column ordering of the centralized database.
Dave has been featured in Entrepreneur Magazine and mentioned in Glamour Magazine plus numerous articles in Cleveland Newspapers.
Dave's main business is Musicstack which he developed and operates and it is similar to Bear Pile in concept. It helps people to track down hard to find vinyl records and used CDs. He has been running MusicStack since 1997 and has an inventory greater than eBay and Amazon with over 20 million titles listed.
Before Facebook and other social media sites, Dave ran another web site called Plugged In Cleveland which offers Cleveland area readers access to posing free classified ads and a place to follow Dave and Natasha's weekend adventures through the picture gallery. "In it's hayday the site is very popular in the Cleveland area with over 500,000 page views a month," Dave said.
Looking back in his childhood memories, Dave tells of a ratty old teddy bear that he and his sister would fight over. "For some reason we both used to think it belonged to each one of us and we both really loved it. At times, each of us would take it hostage from the other and not give it back for days, he smiled.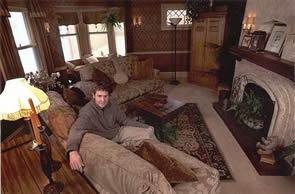 We take note of a bear by the fireplace in Dave's home. It is a duplicate of the first ever bear that was sold on Bear Pile. Dave began, "the bear maker, D. W. Bears from England, was as excited as I was to have sold a bear from the new, easy-to-use online system, that she made another bear and sent it to me! I was elated to have received her bear." It's quite similar to framing the first dollar you made and hanging it on the store wall!