From that day on, Denise was hook and that piece ended up starting a whole new career and passion for needle felting.

"I have been making my creations for two years now. My pieces range from the mystical to realistic pieces, modern life to down right comical ones."

Denise adds armatures to her pieces so that they can be posed in different ways all helping show their unique personalities.

They have glass eyes and often wire is used for making wings (if they have them) and ears.

"I make the claws out of Fimo clay and find enjoyment in making most of the props for my animals, and I make their clothes too."


Most of Denise's creations are one-of- a-kind or very limited editions.

"I really have a passion for felting and enjoy creating and coming up with new ideas everyday," she remarked. "What started as something to pass time has now developed into a business for me."

Her pieces are sold at teddy bear shows across the country, on Bears&Buds and through online auction sites.

When asked what she loves most about her business she stated, "I am so excited to be doing something that I love and call it work!"

And how fantastic it is that she can bring her artwork from the paper into the magical world of teddy bears and buds.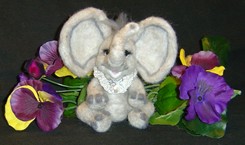 Elephant