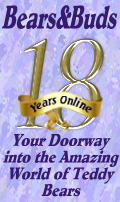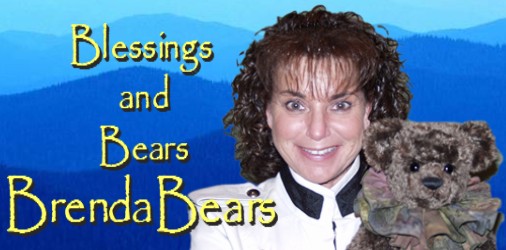 Brenda Parker August 2008
Sweet Pea

Brenda Parker grew up in a rural North Dakota town with a love for sewing and making crafts. While marketing her crafts business in 1993, she was drawn into the wonderful world of bear making.

"I purchased a teddy bear pattern and decided to make a few just for fun." That was all it took. She was hooked.


Challenging herself to design a pattern, she began creating her own original bears. "These little creations became my passion. I love to watch them come to life and bring on a personality all their own."

Cassidy

Another reward to making bears has been to see the positive effect they have on others.

In the early years of her bear business, Brenda took her bears to statewide juried art and crafts shows and sold them by word of mouth. Gaining quite a following, her bears traveled to many parts of the United States and overseas with their new owners.

Drawing inspiration from children and using that in her bear making, she feels they spark her many creative ideas. "I get the most compliments on their little faces; on the expressions they show. It's been said they speak to you. That's their unique personalities coming out. Each piece has its own identity just as we do."

Haylee

One particular creation, Haylee, added very special times to her and her husband's life. "All of my bears are special but Haylee, one of my toddler bears, is my favorite. She is the sweetest thing and I immediately fell in love with her," Brenda recalled. "My husband, Brian, loved her so much he took her to town to show her off. He even used the seatbelt for her in the truck and said she looked like a real little girl."

When Haylee sold on eBay, "I cried as I packed her in the box to be with her new family." Even though Brenda was sad to see Haylee go, she drew comfort knowing "that she is loved as much by them as she is by us."

Slowing down the number of bears she produces, Brenda looks forward to enhancing her designs, with new techniques including airbrushing and special sculpting features. "I think my creativity and talent has improved over the years. I take my time, sometimes several days now, to finish each bear."

Her bears range from 5" to 31" and may include accessories. Brenda sells most of her bears online through her web site and on eBay. Her bears are fully jointed with the exception of the rag bears which are similar to rag dolls in construction. She is also working on an assortment of Christmas ornaments which incorporate her smaller bears. With the use of additional armatures in their limbs, her bears can be posed. Each bear includes a hangtag with their names and the day they were born.

Hayden

Brenda shares her home in the Grand Teton Mountain area of Jackson, Wyoming with her husband and biggest fan, Brian.

"He is nothing but supportive and inspiring. For that I am grateful. When I met him, he encouraged me to get my bears out of hibernation."

When Brenda met Brian, she had taken time off from creating bears due to unforeseen circumstances. "He sparked in me, the passion to create again." And since then BrendaBears has been going strong.

P.J.

"We are blessed to live in this gorgeous scenic area with breathtaking mountain views all around us. Both my husband and I love to spend time in the mountains and enjoy many outdoor activities. There is no end to the recreation available. Finding time to enjoy it is another thing."

But Brenda does find time to work on other projects that include producing items to be donated to charitable organizations. "I feel truly blessed with an awesome life and feel I have been given a talent, in a loving, caring industry, to share with others."

Brenda Parker

Member Since June 2008

Whitney