Ever wonder what makes an artist's bear special?
Is it the structure of the body, the placement of the ears, the size of the nose, the roundness of the belly?
Collectors got a chance to find out at the Tampa Teddy Bear Show when they voted for their favorite bear in the 2nd Annual "It's All The Same Pattern" challenge.
Several months prior to the show, participating show artists are given the opportunity to enter the challenge. All the artists are given an identical pattern with some very basic rules to follow:
1. The bear must be between 10" to 12" tall
2. The bear can be made of any material
3. It may have its muzzle enhanced with needle felting
4. Its paw pads, tummy and inner ear may also be enhanced with needle
felting or embroidery.
5. Artists could not change the pattern pieces except to adjust for size
6. Bear must be undressed and reflect a tropical theme.

Valerie was happily surprised when 14 participants stepped up to the challenge; an increase over last year's 9 that entered. But more surprising is always the variation of looks that can happen from the same pattern. It is a true testament to the creativity of artists when it comes to creating bears. At the basis of the challenge is an element of "sameness," but what the artist's do with the challenge is anything but the same.
Take a look at this year's entries.
| | | |
| --- | --- | --- |
| | | |
| | | |
| | | |
| | | |
| | | Collectors lined up to view the entries and were excited to cast their votes for their favorites. By the afternoon, the votes had been tallied and first, second and third places had been confirmed. |
The Winners Are . . .
| | |
| --- | --- |
| In third place was a little real fur bear named Shellie by Jane Woodard of Heir Bears. | In second place was "Tampa Tootsie" by Lin Chamberlain of Pookie Bears who is a Bears&Buds Professional Artist Member. |
| And the winner of the Tampa Teddy Bear, "It's All The Same Pattern" challenge is... (drum roll, please) "Tropical Paradise" by Diana Watts of DiBears who is also a Bears&Buds Professional Artist Member. | The ability of an artist to bring to life the images in their minds is truly amazing. And when you look at all the different ways "It's all the same pattern" can turn out, you can truly appreciate how fantastic each artist truly is. |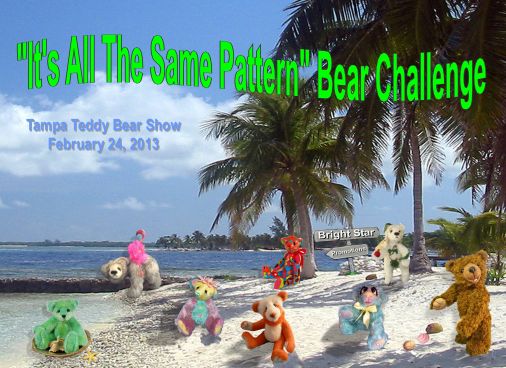 Each artists who entered the challenge received this 8"x10" photo.