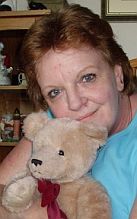 When Chantal Giroux's husband, Alain, career advancement transferred them from Belgium to Saint John, Canada, Chantal found herself at a crossroads.
It was too late in the year to pursue a job as an adult French Immersion teacher, so she decided to work for herself and thus began "Chantal's Bear Collections".
Although she officially started her bear-making business in 2003, she has made bears and toys since she was 11 years old.
Having a curious nature, she indulged her curiosity by learning to paint, draw, crochet, make hairpin and bobbin lace, and do tatting.
With the support of her family, Chantal has become a full-time bear maker and designer.
"I like to create something different for every bear. That's why I make my own patterns and often don't even follow a pattern at all," Chantal disclosed.
"I make them following my mood. I go with a mental picture of what I want and make it becomes real."
Chantal feels that eyes of her creations are the most important part in the whole design. "I like to paint the eyes myself and give them different shades of colors."
With one-of-a-kind crocheted bears are always made using fun yarns and threads, and fabric bears made of mohair, upholstery fabric and faux furs, Chantal creates something for everyone.
Excited over her first bear sold on eBay for $5.99, she advanced to operating her own web site and composing monthly newsletters announcing her newest creations to her customers.
"In my area, craft shows are very rare and teddy bear show venues are non-existent." But that hasn't stopped Chantal from making her way and staying in the bear community.
"I am really grateful because customers give me the support and the will to create new bears. My goal is to bring a smile to the face of the collectors."
With styles ranging from anime to traditional looking bears all made with a wide variety of materials, she is sure to achieve her goal.
Chantal Giroux
Member Since March 2005