Variety is the Spice of Life!
But variety in your choices of stuffing can be overwhelming.
• Which is the best for stuffing a very firm bodied teddy?
• Which will give a huggable tummy?
In an effort to choose which stuffing works best for which projects, I have sampled as many types of stuffing that are readily available from easy to obtain sources.
Almost everyone has a Wal-Mart or JoAnn Fabric's and perhaps a variety of craft stores. Through them I was able to purchase products from the Fairfield Company and the Morning Glory Company. They each have a variety of fiber-fil stuffing that are useful for many types of craft projects due to their own unique properties.
The Fairfield Company in Danbury, CT manufactures the largest variety of fiber-fil. Thanks to the Customer Service Department, I was able to sample all the stuffing products that the company makes.
I asked them how fiber-fil is produced so I could better understand the properties of the various fibers. They told me that poly fiber materials are some how exploded in a secret process to give each product its unique loft and texture. The exact details are a trade secret that they would not reveal.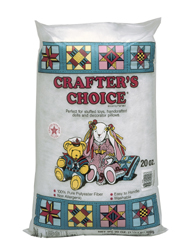 Crafter's Choice is the coarsest of Fairfield's fiber-fil. It comes in 20 oz. bags and is a blend of fibers and is a cheaper version of Poly-Fil.
It has a lot of loft which I find is difficult for stuffing teddy bears. It would not pack tightly and was slippery to work with. Stuffing tools slip right between the fibers and the amount of loft it has rebels against being packed tightly.
Crafter's Choice would be more useful for pillows or children's toys that will be crushed or hugged and you want the filling to pop back out.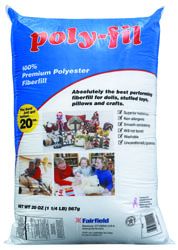 Poly-Fil is the company's flagship brand.
A finer grade of polyester fibers then Crafter's
Choice, it's so popular it comes in many sizes; 12, 20 and 32 ounce bags as well as 5, 10 and 25 pound boxes.
It too was white but slippery and difficult to pack tightly.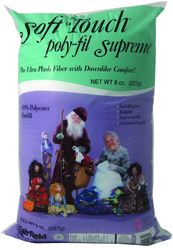 Soft Touch Supreme is the next finer denier poly-fil from Fairfield.
It is white and more cottony looking than Crafter's Choice but still slippery so it resists packing tightly.
Soft Touch Supreme comes in 12 oz. bags.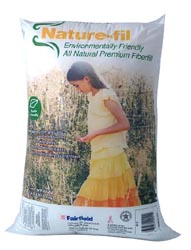 Nature-Fil is a new product that is corn based from Fairfield. It is always good to hear about new uses of corn since I live in the corn-belt state of Ohio. Made of corn starch sugars, it is flame resistant, hypo-allergenic, 25% odor resistant with a 75% greater wicking ability.
It's texture is more cottony then the soft Touch and is still white. I liked the way it compacted and wasn't lumpy. My stuffing tool was able to bite into the fiber-fil. I was stuffing with it and it seemed to work with me as I was packing it down. I recommend Nature-Fil for most teddy bear stuffing.
Looking for other uses, it seems that using this stuffing in wearing apparel would be very advantageous due to its wicking and odor
resistance.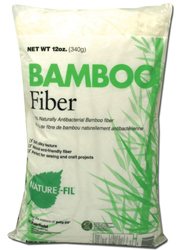 Bamboo Fiber is also a recent addition to
Fairfield's line of stuffing fibers. It is garneted so the fibers are combed into one direction. It kind of reminds me of Baklava layers.
It is pale yellow and soft with a very fine fiber.
Bamboo Fiber compacts well in small places and an added bonus was that it has more weight with a smaller amount of mass so smaller bears will have more heft to them.
It looks very cotton-like and packing it into small bear arms and legs was easy.
Bamboo Fiber comes in 12 oz. bags.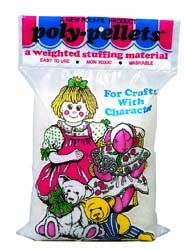 Fairfield also offers plastic pellets in 2 pound and
25 pound bags. I use plastic pellets in most of my
bears for added weight and in some bears as a
body definer (more on that in my next article-
Stuffing 101-the Verb).
Fairfield products are available for purchase by the case to Teddy Bear artists with a State Tax ID number. Please mention the Bears&Buds article by Cindy McGuire when contacting them.
The Morning Glory Company was not one I was familiar with but their
Customer Department was very helpful, sending me samples of the company's
products. Their Premium Polyester Fiber-fil is available at Wal-Mart in 20 oz.
bags and 5 pound boxes. I found the box to be a good value. This white poly-
fil has a fine texture and some compact ability. Although I found it difficult to
stuff it hard enough in my heads, I thought it was good in bodies, giving them
a little loft while maintaining their shape and compacting well enough.
Morning Glory's other fiber-fil is called Cluster Stuff. It is also white and comes in 16 ounce bags. It has an unusual texture, looking like piles of small curls. I found it to be a bit slippery for Teddy Bears but the small clumps allow you to stuff smaller projects and still keep the loft. My stuffing tool slid through this fiber-fil and it was not compactable.
| | |
| --- | --- |
| | Fiber from Monterey Mills |
While I am sure there are many more manufacturers of fiber-fil used for teddy bear making, the one I am most familiar with is Monterey Mills in Janesville, WI.
They make their own poly-fil stuffing in three qualities.
• "A" grade is virgin poly- fil; all white and the silkiest but still compacts well and is the most expensive.
• "B" grade is a blend of several polyester fibers and is a soft, off-white with a little courser feel. It is a good value with a predictable color and texture that stuffs very tightly.
• "C" is a soft yellow color that occasionally varies with the fibers available.
Monterey shapes their stuffing into a continuous coil in a process called "carded" which is great to work with and for dispensing. "C" is the least expensive and I have found the color variation to be negligible.
The textures of all three are dense with fine, coarse fibers that pack well.
All are available in 20 pound bags that can be shipped directly to you.
Hope this information helps you to determine which products will be right for your next project; be it stuffing a teddy bear or not.

Cindy McQuire
Member Since March 2005