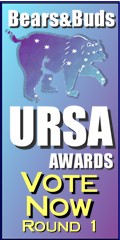 We bestow upon you, our readers, collectors and art enthusiasts, the privilege to vote for your favorite bear, bud, or artist entered in this year's competition, by choosing what you believe marks the quality of fine art.
Your votes help the artists win in the first round and then proceed to the Final Round where they have the opportunity to win The URSA Major-Best Overall award!
<<< Click on the banner to vote.