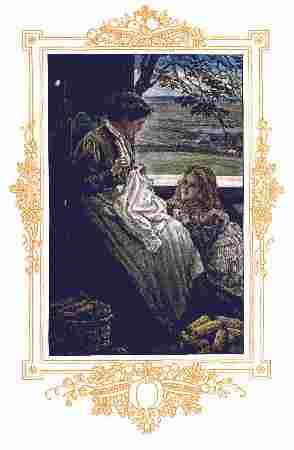 When I was young, magazines like McCall's, Women's Day and Family Circle, always included something to craft in their issues: dolls, clothes,
household articles, accessories or paper dolls
to cut out.
I always loved finding those items - especially
in Women's Day, which included soft doll patterns.
I still treasure them. Just the possibility of having something to create used to send me searching through the issues for hours.
I am sure my mother groaned every time I got out the glue and scissors.
As I got older, it was a needle and thread instead. Sewing became my passion. Girl Scouts furthered my sewing abilities and I was off. Soon,
all my baby sitting money was spent on fabric.
Then the big decision - what to do after high school? In the early 1970's, career choices for women, were not as plentiful as they are today. I was
torn between nursing and fashion design. Flunking chemistry, coupled
with living close to some of the country's best design schools, swayed
the choice to fashion design.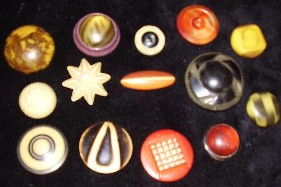 Cindy's Celluloid Buttons
Between then and now I have
traveled many different roads
before finally joining the teddy bear world.
I have enjoyed multicultural
experiences, regional foods, diverse architecture and great museums - experiences that influence my creative endeavors in this wonderful field.
A fringe benefit of my rich and varied lifetime, is the discovery of how sometimes mundane things in life can actually be
used as beautiful accessories.
Enter the button!
Yes, the button. How many of us take buttons for granted, and only
think about buttons when one is missing, or perhaps when we have
eaten too much and our buttons strain a bit?
Maybe the only buttons you have noticed are those little plastic white
ones on men's shirts. However, the lowly button is a delight for collectors because it represents a treasure trove of history.
Check out some of the wonderful button books that are out there.
Better yet, dig through your grandmother's button box or jar.
When my Nana gave me her button box,
she apologized because there were not
very many matched buttons.
Most were "one-of-a-kinds", and oh, what wonderful ones they were!
Nana's buttons dated from the 1920's and included early plastic, celluloid, Bakelite, mother-of-pearl and wood. I had no idea what some of them were, but thought they were all very special.
The era, from which most of Nana's buttons originated, was a time
when buttons were more then just a means of fastening garments.
They were a fashion accent and as important to the garment's design
and appeal as the fabric. In some cases, they replaced jewelry as the
focus of the garment.

Why do men's jackets have buttons on the sleeves?
The decorative bone buttons sewn
on many suit jackets today, began
as an effort by Lord Horatio Nelson (1758-1805) to keep young midshipmen and cabin boys from wiping their noses on their sleeves.
In the days of sail, young boys, often as young as nine years old, would sign on sailing ships as cabin boys, then becoming midshipmen as they got older.
Many of these boys, particularly on their first voyages, would experience homesickness, tearfully attending
to duties in fancy gentleman's uniform,
with no pockets for handkerchiefs.
The young boys would wipe their noses
on their sleeves.
Lord Nelson. to break his cabin boys
and midshipmen of this ungentlemanly habit, had large brass buttons sewn
on the sleeves of all midshipmen and cabin boy uniforms.
The decorative value of the buttons was quickly realized, and soon, London tailors were adding decorative buttons to frocks, coats and dinner jackets.
Though buttons have become less gaudy, the practice continues.
Whether it is true or a myth, it does make a dandy story!
Rudimentary buttons have been used since man started chipping them out of horn or wood.
Metal buttons used to fasten clothes, first appeared in the thirteenth or fourteenth centuries. Gold buttons have been dated
back to 1500 BC.
By the Renaissance period, as fitted clothing became more popular, new craftsmanship methods enabled buttons to be set in gold
or silver with precious stones, or adorned with exquisite paintings, elevating the humble button to the level of ornamentation.
These elaborate buttons, further embellished with carving, inlays, or stamps, or covered
in rich fabrics, quickly became the rage with royalty, aristocracy and other wealthy individuals.
France's King Francis I (1494-1547), for example, had 13,600 gold buttons on a
single costume. Subsequently, France's
King Louis XIV (1638-1715) had silver-covered bone buttons on the uniforms
of his soldiers.
Buttons had become a status symbol.
Men competed to see who could have the biggest, best or the most intricate buttons. The display of buttons, especially expensive crafted buttons, during the 16th century, became a way to demonstrate one's wealth.
As the middle class burgeoned, the demand for manufactured clothing led away from handcrafted buttons and towards mass production.
Caspar Wistar, a German immigrant, began making brass buttons in Philadelphia around 1750.
By the end of the 1800's, button materials became much more varied.
Metal threads were wound about a button in intricate patterns. Miniature scenes were painted on ivory or glass buttons. Some buttons were
engraved and inlaid with silver.
Later, celluloid was created to replace ivory or bone. The early 1900's
saw the introduction of Bakelite, an early plastic, used to simulate
amber. Today, most buttons are constructed from plastics and metals.
My favorite button material is celluloid. Developed in the 1870's, celluloid
was the first man-made plastic. Unfortunately, it was highly flammable! Because it could be easily shaped and dyed, it became enormously
popular, displacing vegetable ivory as the premier button material.
My Nana's button box had several celluloid buttons along with one
of my absolute favorites: GLOW–BUBBLES!
Glow-Bubbles feature a metal base with shiny foil covering and a hollow,
semi-transparent bubble of celluloid.
One of my prized "discoveries" occurred whilst antiquing in London.
I stumbled across a stall of vintage buttons on Portobello Road. What
a delight to find several cards of Glow-Bubbles! It was hard to decide
which to select. They all looked like little gems.
Buttons are an excellent souvenir since they are found in every country
and are so easy to pack!
Now comes the fun part: the FREE project

Cindy McQuire
Member Since March 2005
Further Button References:
a website for button collectors.
Information about their show including theme, educational programs and workshops, entertaining tours and activities, and more.
Wisconsin State Button Society
(an online newsletter for collectors)
Button Collectors WebRing
Webring of sites about the hobby of collecting sewing buttons: buttons for sale, collecting supplies, and books.
Button Information Index
Many examples of buttons, along with a brief description. Includes materials (glass, celluloid), styles (moonglows, lacy), designers (Brooks, Weeber), and usage (uniforms, overalls).
Button Journal and Museum
Antique clothing button collectors monthly magazine with collecting tips, guide to buttons, and schedule of shows. Articles and features available for beginner or advanced collector.
Buttonarium Button Museum
Online Button Museum with antique, historical and collectible buttons on exhibit.