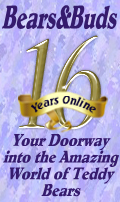 The Original Online Teddy Bear Magazine

Teddy Bear & Vintage Toy Appraisals

June 2021

Introduction . . .

I am now honored to reach out to the collectors and owners
of unidentified bears, stuffed animals and vintage toys.

Ken did this for years and was an expert appraiser. I was his understudy or apprentice and together we viewed and enjoyed each and every request that came our way.

Appraising bears online will be a fun adventure for all of us. We will share our discoveries here on this web page.

Meeting new faces, in teddy bear form, and sharing the knowledge I have gathered, will be a joy. Together we can discover that everything old can be newly appreciated!


Beary best,
Brenda Yenke

How much is your beloved bear worth?


Cursor down to discover the appraisal procedure.

Dear Brenda,
I've been searching for an elusive French Toy and Novelty Co. teddy bear for years. To my delight, I found one in fantastic condition! This beautiful 19" tall Teddy has non working squeakers in her ears, full long gold mohair coat, three long claws on all paws and the pads are original felt with original stitching intact. Her face appears to be all original, too. Her head is excelsior stuffed, her body is stuffed with kapok, I assume.
Most fascinating and unique,
I believe is that her upper limbs are soft stuffed but her wrists, ankles and paws are excelsior stuffed. Truly looking forward to hearing more about the manufacturer, the year she was created and her value. Thank you so much for your time, insight and valuation. - Karen

Hi Karen,
Your very large bear does have traits of the National French Fancy Novelty Co. Located in Brooklyn NY, it is an American Co.! There is only a small amount of info on this factory. They were located at 2058-2060 Pitkin Ave. and were most famous for their sleeping eyes bruins, and dogs. The eyes were encased in a solid wire socket, almost like a hardware piece.When laid down, they would"Sleep", just like dolls. As advertised in Playthings magazine, these patented pieces date from August 7, 1923. They also touted that their bear house was one of the largest, making stuffed animals for 17 years. According to the print, their teddies were cork stuffed! They also made many dolls. Your particular Bruin has great mohair, the typical shaven muzzle, with a horizontally stitched cord nose and inverted Y mouth. I have not seen the black glass eyes before. Our model has amber glass eyes, with rather flat yet cupped ears and the squeakers. Your ears may have been reattached with a gathered effect. Known for the barrel body, arms lowered, and slightly pointed left foot pad. The pads are felt. Many did have kapok bodies, to make them lighter. Important areas for excelsior are the head, limbs and joint areas. He dates to the earlier years, around 1912-15. With very good mohair coverage, the market value today would be $1,500. and up. Brenda

Greetings Brenda,
We have this bear that was left to us by a German Woman born in 1923 in Dresden Germany. She was the only owner of this bear, and brought it with her to the U.S. Her name was Ingeborg John. We would be interested to know details about it, and its value. It measures approximately 17" tall, and is in good shape with all of the joints working. The feet seem to be in original condition, but both hands have wear, which shows the stuffing in spots.
Thank you very much!
Jim
Hi Jim.
Your Inherited teddy bear does have German roots. It most closely resembles those from H.J. Leven, originally a Doll Factory in Sonneberg. They opened in 1912, with both dolls and bears. In 1925, a new line of teddies was introduced along with leather dolls, dressed dolls and teddy bears in 1931. Fritz Engel became very active in the firm, and eventually took over the company and catalogs.
I think your bear was dressed for a large part of his life, as noticed in the great condition of the fur on the long torso, slender arms and legs. He is five way jointed, dating to 1920-30s. His eyes are shoe buttons, sewn into the head seam, ears are small and cupped, while the head has wear especially near the muzzle area. Despite this, his nose remains slightly, with horizontally sewn cord, and an inverted Y extension for the mouth. The hand closed seam is completed in the back of the torso. He is stuffed with excelsior. The pads are brown felt enclosing the stuffing. Three claws were sewn unto the hands and feet. His nose is quite prominent, which can attest to the TLC he received for years. Value for the 17" teddy would be $ 450.00. Any pictures of the original owner and her bear would add to the provenance. Brenda

Hi Brenda,
I am hoping you can help tell us some history about this lovely (and clearly loved!) boy. He's 14" tall. Movable head and legs. Can feel a disc inside. I discovered him in a box of my mom's possessions (she's 90) and don't recall if he belonged to me or my brother, or possibly someone even before us! We were born in the 1950s in Scotland. Mom was born in Scotland in 1930. She loved to knit so perhaps Teddy's natty red shorts and top were created by her.
With thanks in advance,
Hilary

Hi Hilary,
Your new found teddy is English, from a company called Chiltern. Originally called Chiltern Toy Works in 1908, it was founded by Joseph Eisenmann. He passed away in 1919, and left the factory to his son-in-law, Leon Rees. Eventually, H. G, Stone (formerly of Farnell) joins the firm. Stone did the designs and producing while Rees did sales and marketing. Chiltern Toys was registered in 1924, while Hugmee bears were introduced. They had several factories. With the rexine pads, and no upward stitch on the outer nose, we can date your teddy to the 1950s. It would be called a Hugmee version, totally lovable and easy to hold. His material is mohair, with amber glass eyes. After WWII, the arms and legs became shorter, as well as the mouth turning a bit downward. The chubby tummy seems to indicate his love of honey. At the time your teddy was made, a new factory was opened in East London. These bears were often dressed by owners, as companions. The body is probably kapok, while excelsior keeps his head firm. He is considered a vintage 14" bear, with a value of $275.00.
Brenda

Hi Brenda
This bear was a recent purchase online from an antique dealer and teddy bear collector. He's huge! He is 28" tall. His feet alone are 7" long. They are carded as well. There is a tiny non-working squeaker in his belly. The paws and feet are stuffed with kapok while the rest of the body is wood wool. I think it is an American bear. When do you think it would have been made?
Thank you
Robyn

Hi Robyn,
"Thinking big" has many rewards for the teddy bear collector! At 28", your example is quite impressive. You are correct with your American label, as he has many traits of the Ideal Novelty and Toy Co. Morris and Rose Michtom had a stationery shop in Brooklyn, and they were said to make a few prototypes of a toy bear to emulate the Berryman cartoon of 1902. Your teddy most probably dates to 1906-07. This is when Michtom's formed the Ideal factory.
They advertised in Playthings magazine during this same time, as the exact reproduction of the European model, meaning Steiff. The triangular shaped head, shoe button eyes sewn inside the head seam, the horizontally sewn nose and his football shaped body were all Ideal traits. He has four claws on each appendage, with felt pads and cardboard inserts to make him able to stand. The foot pads are pointed at the toes. He has a large hump on the back, to replicate a real bears shoulder blades. You even mentioned he has a tiny voice box. He is in good condition, and is 5 way jointed. The mohair is a short pile. For such a large bear, he almost seems to have been used for an advertising item. Value for your super sized Ted would be $3,000.
Brenda

Hi Brenda I purchased this bear on eBay. The information I got from her was that he was from her grandmothers collection and as far as she knows it originated from Russia but not sure .
He is curly mohair with moving joints wood chipping filler, has growler, humped back and round belly . No tags attached. He has glass eyes and long hairless snout with black stitching and also felt paws and hands. He is approx. 18 inches. Please can you give me an estimate of value?
Thanks Clair

Hi Clair,
Your newly purchased teddy was done in the style of an older bear, but it is a more recent creation made by a talented teddy bear artist. It could have been a Russian artist, as the globe is international for teddy bear designs. They used the best material, mohair, the wool and cotton fiber made from the angora goat. It is a curly mohair, plush and pristine.
The wool pads are quite large in length, mimicking those of earlier times. The excelsior they used for stuffing is also a traditional filling. The snout is shaven with a vertically sewn cord nose and drop for the mouth extension. The eyes may be glass, sewn and anchored into the head. It even has the natural hump on the back, standing for the shoulder blades of a real bear. At 18", teddy is nearing the large category. The cinnamon mohair is also a coveted shade in older bears, as well as newer ones. Value for your artist designed teddy would be $175.00.
Brenda


Hi Brenda,
I wondered if you could give me more information on my Teddy bear please? My teddy is in good condition and solid with a hard head, glass eyes and molded nose. He is 19" tall and has no paw pads but does have feet pads. His back is slightly humped and he has a protruding tongue. His body, arms and legs are straw stuffed. I hope I have given enough information about him. Thank you.
Kind regards
Carolyn
Hi Carolyn,
Your very expressive teddy bear is from Austria, manufactured by Schwika. He has that very discerning characteristic of the turned down front paws, an effort to make them very friendly. In reality, when Carl Haggenbeck had his animal circus, the real bears stood upright and walked with downturned paws. This posture was first exhibited by Steiff after WWII. They called this bear, Teddy Baby. So, the other companies followed suit, and made their own very gentle teddy bears. Schwika was located in Graz, Austria, the second largest city in the country. Their open mouth bears seemed to talk. Yours dates to the 1950s, is stuffed with excelsior and has a wooden painted nose and glass eyes. Some of their bears had paw pads, but this one does not have them for the hands. He is also 5 way jointed, and has a great profile. Karl Schwingenschlogl operated the company until 1974, when imported bears became the completion. Identification was a seal on a red cord coming from the left ear on teddy bears. It is very rare to find an original one with an ID tag. At 19", this is a large sized teddy and would carry a value of $350.00.
Brenda

Hi Brenda,
This was my Great aunt Tante General bear that she bought in Germany when she was stationed there as a nurse during WW2. Her husband left Germany before the war and moved to America, became a US Citizen, married my Aunt and joined the Army. He was deployed to Germany to fight in the war, was captured and tortured & sent to a concentration camp for leaving Germany, considered a traitor for becoming a US Citizen. In the meantime, my Aunt was deployed to Germany as a nurse.

Both made it out and returned to America. As a result, my Uncle had terrible PTSD but ultimately managed to

become a very accomplished musician with the Hartford Philharmonic Orchestra and a music teacher of piano and wind instruments and an Architect. My Aunt had bought this Teddy Bear during this point in time. So our guess is around 1940s.

My mother grew up playing with this 15" teddy Bear and cherished it so. NOTE: on the photo where I'm pointing there is something hard inside. Not sure what it is? It's small an squarish? The arms, head and legs rotate. Hoping you can help us figure out who made it. Thank you.
Warmly,
Amy
Hi Amy,
What a heart wrenching story about your G. Uncle and his wartime efforts. God bless everyone! I am thankful he found joy in the music field, a therapeutic work environment. Your G. Aunt's bear is American, from the Knickerbocker Toy Co., originally from NY and later moving to NJ in the 1960s. They produced Victorian wood blocks in the 1870s, part of the educational side of toys.Teddies were designed around 1920. Your long mohair teddy with velveteen pads, tin eyes, and vertically sewn nose with the inset shorter mohair muzzle dates to the 1930-40s.The hard disc you feel in the back is most probably a squeaker. Growlers were larger discs.
Air gets into the voices and then they are muted. They still speak through their presence! They had no hump in the back to simulate the shoulder blades of a real bear. I do not see any claws, which is a common trait for Knickerbocker. He has some wear to the back of the legs, with missing mohair. Shirley Temple had a special appearance of her teddy in the film "Now and Forever". Grumpy was his name. She renewed the teddy craze, with her endearment. Value of teddy with your provenance would be $250.00.
Brenda

Hello Brenda,
I would like your help in appraising this family Bear.

It was my mother's , doesn't appear to have any trademark markings. Swivel heads arms and legs. Amber eyes. Paws have felt panel hand stitched but can be removed without damage to bear. There is a hard metal circle on the back under the fur, assuming mechanisms for moveable parts.
Thank you for your help.

Anna


Hi Anna,
Your heirloom teddy appears to be German, associated with the Fechter company. Gerta Frieda Fechter began as a homework sewer in the cottage industry with her husband William, making designs in the Neustadt area. This was their early work, using cotton or silk plush fur, large flat ears and horizontally sewn cord noses. These characteristics mimic your Mom's teddy, with a long muzzle and glass eyes. Many had contrasting material for the pads, and inner ears. There is a red felt tongue on your inverted Y mouth extension, while later examples were made with open mouths. The move to Austria opened the patterns for felt teardrop shaped hand pads as another identifying trait. They used mohair as well for these later examples. The hard circle you feel in the back should be the voice box. Most vintage bears have nonworking devices, as air gets into the cylinder. Your teddy dates to the late 40s- early 1950s. It is 5 way jointed and if you have pictures of your Mom with teddy, that would contribute to the provenance. He appears to be about 15" tall. Value would be $125.00 for the curly cotton plush fabric. The condition is very good. Enjoy!

Brenda

Hi Brenda,
Last week, I went to a thrift shop with a friend this teddy bear caught my eye so I bought it.

I only paid $10.85 for it. The vintage look of it was really cool and I loved that it was still in the original packaging.

Did I make a good purchase?

Brandon

Hi Brandon,
Yes, you made a terrific purchase with the Knickerbocker Joy of a Toy, called Kuddles. Knickerbocker is an iconic American company, starting out in 1850, with Victorian lithograph alphabet blocks. By the 1920s, they made teddy bears. Originally located in New York, in the late 1960s, they moved to Middlesex New Jersey. Shirley Temple had a favorite teddy, from Knickerbocker in the 1930s. Her stage teddy bear, " Grumpy", appeared in the movie "Now and Forever". They also made other animals, but the teddy bear is most coveted. The original packaging is in excellent shape, dating to the 1960s. The eyes are plastic, with the spangle rays of light all around the iris. They are safety eyes. His felt tongue and acrylic fur is just as if he was made. Knickerbockers had no claws, and his fur is acrylic along with furry white pads. He's has no joints because he is a crib bear, safety again. The surface washable fur made them a desirable companion.Today, the originality of his package, and pristine condition, wears well for his vintage mode. Keeping it as is, the value should be $35.00 and going up with each decade. Enjoy!
Brenda

Hi Brenda,
My bear was passed down to me from my non-related aunt. She was a dear family friend that I grew up calling "Aunt". This was her bear given to her by her parents as a little girl. She was born in 1919. Her family was originally from Germany.
As you can see, this sweet bear has been well loved by all who have had the pleasure of knowing him.
Several years ago after my Aunt's death I decided he needed mending. I did take him to a "hospital" and asked that he simply be saved from further decay. Since then he has been stored away from the elements.
He is 22 1/2 inches from ears to feet, 9 inches across his shoulders. He is jointed - arms and legs with a swivel neck. His eyes are original.
Hopefully you can give me some other information about him.
Sincerely,
Debbi

Hi Debbi,
You inherited a rather large teddy from your "Aunt"! He does have German traits, and could be from Goldmann & Co., located in Bavaria. They produced teddy bears and animals from 1922, with an advertising catalog dating to 1925. Your example dates within this time frame. The shoe button eyes were common, along with the gold plush mohair. He is five way jointed, with larger joints to accommodate the size and weight of the arms and legs. Being born in 1919, she was so blessed to survive the effects from the 1918 pandemic, H1N1. The repairs you had done were meticulously sewn, and the entire muzzle was recovered, finishing with a new cord nose. I am sure the nose area was well worn-probably had been kissed a thousand times! The hand closed body seam is in the front, as with most German makers. The feet are large and the arms are long, with a robust tummy. The ears are cupped and placed toward the sides of the head, indicating an earlier bear. As time progressed, the ears went towards the top of the head. The slight tear in the ear could be gently sewn together to prevent further decline. The stuffing is excelsior. If you had pictures of your Aunt with this bear as a child, that adds value. It is called provenance. Antique photos of this type are with about $50.00. Value for your bear would be $$250.00.
Brenda

Hi Brenda,
I inherited this little guy from my great Aunt who was a collector of all things, but not sure as to where she acquired him from. I know it's a schuco bear, his clothing made from felt, and I believe he is made from moehair but I'm not 100% sure on that. He stands 10" tall. His metal skates seem to be in working condition but I received him without his windup key so I have not accurately tested them. His arms and legs move freely, his right arm does feel a little looser than the left but other than that he seems to be in excellent condition. I look forward to learning more about him, thank you in advance!

Elise

Hi Elise,
Love your Schuco soldier mechanical walking bear! In 1912, they called him the Mechanic's bear. This innovative company was founded during this same year by Heinrich Mueller,and Heinrich Schreyer. Mueller had been an employee of Bing. At first called Schreyer and Co. then changed to Schuco in 1921. Schreyer left and Adolf Kahn signed on in 1918. As with any toy, nonworking toys have a reduced value. Your example has a replaced hat, most had a formed white cap with a black rim and red felt trim. He had a black leather belt, which a sword was in a sleeve. I think the leg felt has been replaced as well, with a seam overlay. His mohair face and hands, original rayon pads, and metal shoes are good along with the felt jacket and gold buttons. The unique function of the feet when the lever was reversed, was he did the Moon walk-like Michael Jackson! Walking backwards! You could get a key from a local clock repair shop. They even sell one that has various sized keys, all in a fob.
If it works, value would be $1,500, while a nonworking standing Mechanic would be valued at $800.00.
Brenda

I believe he is Steiff (small hole in his ear). He had eyes, and his hump has been a bit flattened due to being stored for decades.

Overall, he is 23-24" long.

Thank you for your help!

Best,
Janet

Hi Janet,
Wow..your teddy is considered very large in the bear world! He is an American bruin, dating to the 1915 era, so he is a true antique by age..100 yrs and more. He most resembles those made by Ideal Novelty and Toy Co. of NY. The football shaped body, long slender legs with formed feet, and somewhat of a hump on the back. It is amazing that all the extremities are in tact, considering the weight with the excelsior stuffing. The eyes during this era, were mostly shoe buttons. However, some were fashioned with amber eyes on wire shanks. His muzzle has wear, probably from being cuddled. The nose on Ideal bears was almost always a horizontally stitched cord and then an inverted Y extension for the mouth. His ears are large and cupped places toward the side of the head. This trait changed with time, as the later bears had ears toward the top of the head. He is 5 way jointed. For an antique teddy, his mohair coverage is considered good. The felt pads have been recovered for protection. Ideal began their great factory in 1907, but before then, they could have made handmade examples sold through the Michtom's stationery shop in Brooklyn NY. Value for your Americana antique teddy as he is would be $ 400.00. Brenda

I have 2 of these little bears that I got from my sister from NYC. I know NOTHING about them! Their outfits are slightly different. Head to toe-- 6.5" paws are shaped but do not have any kind of pad on them Yes jointed - head does not turn mohair head, paws Amber eyes, rounded ears Outfits knitted right into the 'body' --collar and bow tie are felt. Some moth damage so I assume knitted outfits are wool.
Sewn nose/mouth.
Kate

Hi Kate,
Your twin teddies are adorable! They seem to be made partly with a fabric body and then fused into the wool plush. The hand knitted body sweaters are formed atop the cotton body and limbs. Most different on these bears is the definite smile, a turned upward cord finishes teddies with a happy mood.
This trait is very common for a modern day teddy bear artist. They are pin jointed with a stiff neck, a common characteristic of Japanese teddies from the 1940s. The issue of joints made mass production easier with pins. The eyes are amber glass, and the nose is horizontal with a outline stitch. We shall label the teddies as American cottage made, with detailed costuming of knitted fabric. Many US made teddies came from NYC...the hub for gatherings. With WWII, imports were fewer. The bow ties are perfectly formed, as is the formed wool collar. The ears are cupped and are large from the back view. Your tiny little wooly bears would carry a value of just under $100.00 for the pair. Brenda

Hello Brenda,
This bear was my mother's.
It was not her childhood bear but rather a bear she bought as treasure. My mother was
a lover/collector of antique dolls, bears and many other things. My first memory of this bear was in the 1960's. As a girl, I loved squeezing
it to hear the music box play. My mother has since passed but I think this bear was from the 1800s? I can't remember what she called it or who the manufacture was but I feel like I'll know it when I hear it.
I love this bear and would like to insure it and know the value so my grown children can appreciate it. Bears is
16-18" long. His head turns as do all of his limbs.
Margaret P

Hi Margaret,
Your Mother's very fine near antique teddy bear is Helvetic, getting the name from the pump music box which had origins in Austria. She is pink and white, and was costumed as a clown. Some even had a felt cone hat with similar Pom poms over one ear. The mohair is still intact, although a gentle clean could make her sparkle again. She dates to the 1920s, roaring as they were..colorful and vibrant. The felt pads are still in good condition. She is missing her porcelain eyes...something that was characteristic for this brand. They were brown glass with a porcelain coating around the back and sides. Based in the German mantra of teddy bears, these were often featured with porcelain dolls of the period. The cord nose is partial, some even had outer edges that extended beyond the regular nose, to appear as a "bat" shaped nose. The music is beautiful, and the boxes themselves have value. Value for you heirloom bear as is would be $ 600.00.
Brenda

Dear Brenda-
This 20 inch hand made bear was given to my Mom, a teddy bear lover, upon her retirement, in the late 1980's. There is a tag on it that says Antique Patchwork Bear dated 1889. It is in very good shape. The arms and legs still move. I am not sure if the bear is from 1889 or the quilt? The bear also has another label on it which says Rebecca White. I am sure there is a story to this bear.
I am looking to know its value and I appreciate your assistance.
Thanks,
Muriel

Hi Muriel,
Your Mom's retirement gift is made from a Victorian patchwork quilt, and has a dating from that period, 1889. Often these beautiful quilts were made in rayon, which are quite fragile and often tear in places. Your example has a better quality fabric, and assures a lasting quality. Rebecca White must be a teddy bear artist, who designs and makes her own pattern, then completes with sewing and stuffing. Although teddy has no applied eyes, we know he can see. Most probably stuffed in the same way old quilts were lined in kapok, the stuffing is most likely soft, and could be cotton or polyfill. In the late 1980s, the teddy bear artists were experiencing a surge of interest. This interest lasted well for two decades. As an originally designed teddy of 20" height, the value would be $100.00. She is one of a kind, with a Victorian influence.
Brenda

Hi Brenda,
I inherited this teddy bear from a friend of my parents. She was born in 1911 and was from a wealthy family. I am guessing that this bear is from the teens. Her parents were known to purchase high end toys for their children, so I am assuming that this bear was a "top of the line" teddy bear from the time period.
I believe that the fur is mohair. It sounds like it is stuffed with straw. I am not sure what the eyes are made of. It does not have a tag, nor does it have a button in the ear. It does have a bell inside of it. From head to toe it is 17 inches tall. Legs are
7 inches in length. Same for the arms.
Torso is 8 inches in length. Girth (around the widest part of the belly) is 15 1/2 inches. The head swivels and the arms and legs move up and down. The bear is quite dusty, but
I have been reluctant to try and clean him for fear of damaging him! He does seem to be in very good condition for his age.
Thanks for helping me out with establishing a value.
Sincerely,
Randall

Hi Randall,
Your excellent condition teddy is German, resembling the Kohler and Rosenwald factory. They were founded in 1909, with a trademark established in 1931of Kolundro. Located in Nuremberg, in 1936 Carl Harmus was the new proprietor. He has original glass eyes,placed outside the head seam and dates to the 1920s. His paws have a slight upturn and the full football shaped body is larger than the American Ideal examples. The nose is a horizontal cord with an inverted Y mouth extension. The closing hand seam is in the back. Positioning of the ears is over the head seam. Kohler and Rosenwald had a few musical devices used on their bears. You mentioned a bell inside. He could use a light cleaning, maybe try a gentle vacuuming first. Then, a damp washcloth to carefully reveal his golden colored mohair. His stuffing is excelsior and the pads are wool felt. I see no claws, but usually these were added. His value today at 17" would be $700.00.
Brenda

Hi Brenda
I have no history on this old fella, I purchased him from an auction in New Zealand.
He has the look of being a well-loved companion with many repairs being carried out over the years. When lying flat he is just under 16 inches long, although his woodwool has compacted around his shoulders and tops of limbs which reduces his height when sitting. One eye I believe is original being amber and black glass, the other is a small button. His gold mohair is well worn, thread bare in places.

He carries the worn signs of adventures had as a treasured friend. Any history you can offer to piece together his past would be appreciated.
Thank you very much
Kind Regards
Suzanne in New Zealand

Hi Suzanne,
Your dear ole Ted has many traits resembling the style of Ideal Novelty and Toy Co., an American company. His one amber glass eye is remaining, with a button for his other eye. Dating to the late teens, 1919-20, his long stick legs were common. Some even called them stick bears. The short bristle mohair reveals a glimpse of the original bright gold on the head gusset seam. Both eyes were sewn inside the head seam. The ears are cupped and placed over the head seam. The nose was a simple black cord, and the hump on the back is virtually flattened. The hand closed seam on the body is done on the back, a common fixture for the American makers. He has a nice football shaped body. He evidently had a very rigorous life, but like any loved companion, still has a charming presence. His as is value would be $85.00.
Brenda

Hi Brenda,
This Terrier dog I purchased a as part of a bulk lot of bears at an auction in New Zealand.
He stands 7 inches tall, 9 inches long. He has good coverage of mohair in three colours, amber and black glass eyes, a black vertical stitched nose and is firmly stuffed with wood wool.
I would be grateful for any information you can offer as to his history.
Kind Regards,
Suzanne in New Zealand

Hi Suzanne,
Your sweet Fox terrier is English, with the classic two downward cord stitches in the outer nose. Farnell had many popular designs, and with the model of Caesar, the favorite dog of King Edward the VII, everyone wanted a similar toy pup. The red glass eyes are from the late 40s, early 50s. He is not jointed, but the excelsior helps to retain the shape. Farnell was able to make some cuts in production after WWII, to make an affordable product. The,y made several sitting pups, some with a jointed head, while others held a stationery head. Farnell had very good mohair sources, but they also had velvet animals. He is a medium sized dog, with a certain class of distinction.
His value would be $125.00.
Brenda

Hi Brenda,
This little cat covered in fine velvet belonged to my Mother. I have no idea of the age but I can remember it being in my family for about 60 years, that making it at least 60 years old. The measurements are 4 inches high from tip of ear to bottom of feet, 5.5 inches from tip of tail to end of nose. The eyes are glass, amber with black centre. The cat is stuffed with woodwool, I think the tail was standing up straight once, but the woodwool has moved from the body and tail joint
making it sag. The wee cat many years ago was dark brown as can be seen under and between the legs and stomach. The ears are stitched onto the head.
I have no idea where my Mother got the wee cat, and I do not think she bought it new as she gained much enjoyment from searching second hand shops in Christchurch, New Zealand. I would greatly appreciate any information regarding the cat's history and age.
Thank you
Kind Regards
Martyn in New Zealand

Hi Martyn,
Your very dignified velvet cat is a tiny one, fitting into the miniature sizing. Despite this, his nose is quite reminiscent of larger sized pieces. With the large amber glass eyes, he fits more into the German world of animals. Steiff was the measure many other companies tried to emulate. They made several velvet pieces, but they also had hand painted backs to their glass eyes. We have a similar small velvet teddy, which my late husband characterized as Schuco styling. Your cat has traits of the J. August Pietschmann company of Berlin. It was founded in 1885, and by 1909, they advertised cloth, velvet, and plush animals. Your cat seems to date to the late 30s, with excelsior stuffing and mint whiskers!
He is simply made, no joints but still able to stand securely. Your Mom was a discerning collector! His value would be $175.00.
Brenda

Hello Brenda,
I have a famous Bear named Sir J.P. Jasper who has been in my family for 40 + years.
In 1986 Jasper was a winner of "The Teddy Bear Contest Calendar".
Jasper was the October masked clown. My Mom is mentioned multiple times in the calendar.
I have a sealed calendar and an open one. The contest had more than 20,000 entrants from around the world.
My Mom found him in a drawer at an antique show.
I will not say what she paid for J.P . I have several Bears from her collection. Most I have identified. I think Jasper is a Steiff but I am not positive. His condition is excellent. His description in the calendar says he has a sheepish face but is 100% Teddy Bear.
Tell me more about me Bear!
William

Hi William,
Your bear has such great history. Bialosky's were on the ground floor with the teddy bear resurrection. During the 1980s, many shows, and celebrations were held in the honor of Teddy collecting. Things have waned a bit with the internet and vast amounts of available teddies. It's great how your Mom mentioned it was in a drawer at an antique show. It is an artist bear, made during the early years of this phenomenon..1980s. The real founder of the teddy bear artist was Beverly Port. She brought this craft to light and encouraged all the creative artists to design and make their own patterns. So, the Bialosky's wrote the first book-The Teddy Bear Catalog in 1980. In the book, the description of each would be happy bear, plump bear, sad bear etc. How ironic that your Ted would be labeled sheepish bear, with side sewn ears and long muzzle like a real sheep. He has ultra suede pads with 3 claws sewn in an overcast stitch on each pad. The material is ironically a curly wool fabric, with black shoe button eyes. The masked clown description seems to challenge the circus in him. Sir J.P. Jasper is indeed a pedigree bear, made by an American teddy bear artist. He carries a value of $100.00 with the calendar and provenance.
Brenda

How much is your
beloved bear worth?

Ask Brenda Yenke

Appraisals are $20.00 for each item. (Bears, stuffed animals, vintage toys too)

Use PayPal (link below) to pay.

Send your bear photos to:

Please include as much information about your bear as possible: size, how it was acquired, various poses, and send 5-12 photos attached to the email. Please do not inserted photos in an email text. Thank you.

---

Do we have permission to show your bear
on this web page?

Only your first name will be published.
Please give us permission when you send your
photos in your email.

---

Available: Evaluation Certificate

Document contains a photo of your bear, the email request from you describing the bear, and the appraisal by Brenda.

The Evaluation Certificate will come to you in a pdf format for you to print and keep with your beloved bear.

Certificates are $10.00

for each bear.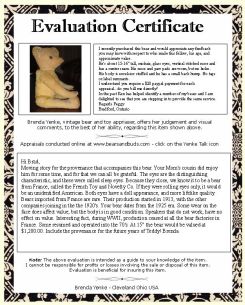 OR after a paid appraisal, should you wish an Evaluation Certificate, please use this PayPal button for ordering.
Please state the name of the bear in the comment box.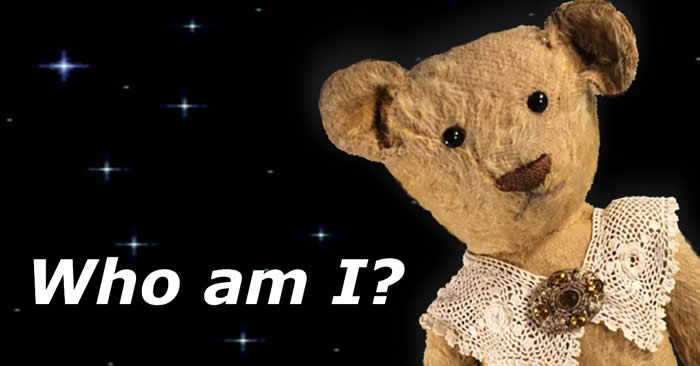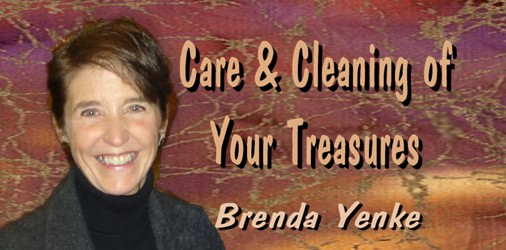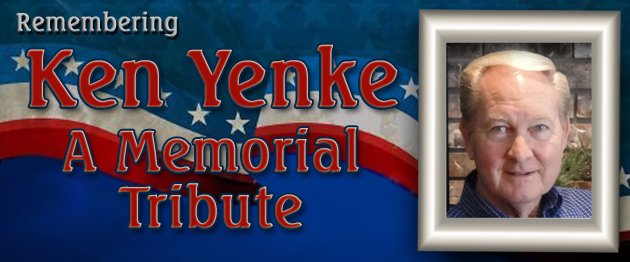 Collectors - if you like reading articles like this, why not subscribe to Bears&Buds?
---
Just $15.00 a year. You'll receive a collector's lapel pin and a password to enter the Collectors' page where you'll find more wonderful articles..
---
Artists
-

would you like to be seen by our worldwide readers each month?
Become a Professional Artist-Member of Bears&Buds today!
Advertise FREE! Your membership password will take you to the B2B section loaded with selling, making and how-to ideas.
---