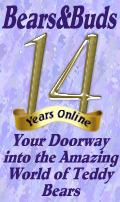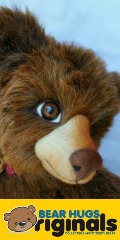 The Original Online Teddy Bear Magazine

Teddy Bear & Vintage Toy Appraisals

October 2019

Introduction . . .

I am now honored to reach out to the collectors and owners
of unidentified bears, stuffed animals and vintage toys.

Ken did this for years and was an expert appraiser. I was his understudy or apprentice and together we viewed and enjoyed each and every request that came our way.

Appraising bears online will be a fun adventure for all of us. We will share our discoveries here on this web page.

Meeting new faces, in teddy bear form, and sharing the knowledge I have gathered, will be a joy. Together we can discover that everything old can be newly appreciated!


Beary best,
Brenda Yenke

How much is your beloved bear worth?


Cursor down to discover the appraisal procedure.

Hi, I bought this beautiful 20" tall bear at a local thrift store for a $4. It is in almost mint condition, so I'm not sure if that means it's new, or just a well taken care of 'old bear'. It has amber colored glass eyes, with black pupils. Elongated nose. The feet have suede padding. The right hand is straight and the left hand is curved. Fully jointed. There is a leather tag with the word 'Willie'. I'd really love to know more about it or even find out who the maker is.
Thank you so much,
Suzanne

Hi Suzanne,
Oh what a gem! No wonder you adopted him. At 20", this long legged teddy with almost bent knees, you are correct that he has origins in the artist field, with one gifted creator! The fur appears to be an acrylic, very common in the early years of artistry. Mohair is quite pricey, and even more so for alpaca. The ultra suede paws are the best fabric used for handmade bears, with the durability of leather. His eyes are glass, sewn into place, with also a hand stitched cord brown nose and mouth extension. The leather tag reveals his name, a Willie Bear! Back in the 1980s and 90s, many artists tried their techniques and patterns to carve out their niche. Literally, hundreds of artists made teddy bears! When we first started collecting, we found a very talented seamstress who sold bears at the flea market. They were under $50.00, and it seemed each month we added to our collection. Over time, prices rose to hundreds, but the market is "Bear" again, with prices down. Most were 5 way jointed, as yours is. The dating on your teddy is a bit later, with the bent knees. Steiff had animals with this long leg in the 1950s, and called them Lulacs...they continued for a few decades. Willie can assume many poses, especially with the one curved hand! The leather tag was used by many artists, and we see it is encased in the back seam, along with the hand finished closure. The ears are positioned right next to the head seam, another quality attribute. Value would be $125.00 for your thrifty find!
Brenda

Dear Brenda,
Here is another Teddy Bear for appraisal.

He is 16" long, has a broken right leg (by feel) and a tear on the upper of the left leg where you can see a metal swivel.


I do not much information, it was my wife's back in the '40's.
Thank you.
Ron

Hi Ron,
The German connection comes into play with this teddy bear.. amazingly! At 16" with mohair and the excelsior stuffing, the bear dates to the late 1930s-40s. The eyes are brown glass, sewn outside the seams to create a high forehead and a triangular shaped nose with cord done in horizontal stitches. The ears are placed high on the head, indicating this later time frame. They are only slightly cupped, with a shaved muzzle area. The firm Teddy most resembles is the Henze & Steinhauser firm, formed in 1896 by two sisters. The woolen toy factory was located in Gehren. During the war, production ceased. They had to relocate to W. Germany. The company was restructured, with descendants at the helm. The original location of Gehren turned into a subsidiary of Steiff. With cooperation under this arrangement, the company flourished only to end in 1979. They produced many examples, mohair bears had excelsior, while the long shaggy plush bears had kapok. We can see the metal disk used for jointing, which could be mended with sewing. All original, there is no discernible hump, and the closing seam is located on the back seam. Claws were numbered at three, similar to Hermann. He is in good condition and perhaps has a growler in the tummy. Many of their models had voices, but not all. Value with a family picture would help with provenance, but as is now, the amount would be $300.00.
Brenda

Hi Brenda,
My great-grandma gave me this bear before she passed away at the age of 98 years old. (1907-2006). She lived most of her life in Madison, WI. I don't know it's origin on how she acquired it. The bear is 19" tall and 13" if sitting upright. It has golden mohair, glass eyes, and a stitched mouth. It's jointed for the arms and legs. It has a humpback. Not sure about a growler internally, if so, it doesn't work. There are no tags and it's unmarked.
I would love to know the precise maker, the year of production, and the estimated worth. Anything else would be great too.

Thanks,
Paul

Hi Paul,
I am sorry for your loss in your dear great-grandma. You have her cherished companion, and if any pictures can be found with her and this teddy, that would add to the provenance. The mohair is very bright, with some wear spots, and beautiful amber glass eyes with a bit of yellow tone to match the fur. It is a 20" teddy, with a long football shaped body, thin legs and long arms, that match the size of his body. The ears are sewn near the top of the head, indicating it is from the 1920s. Although it has a hand finished seam in the front, it most resembles American teddies, like Ideal. They were the prolific company that started life as Ideal Novelty and Toy Co. in NY with a factory in 1907. They advertised in Playthings Magazine that they were an exact replica of the imported bears...Steiff. The Smithsonian Museum has an original large Ideal on display. Excelsior is the stuffing, along with felt covered pads. The nose is a slight few horizontal stitches with an inverted Y mouth. Made with dense mohair, he is in excellent shape aside from some thinning mohair spots on his head, and back. He was lovingly cared for over the years. Today, the value of your large sized teddy would be $325.00. Brenda

Hi Brenda,
I recently purchased this bear at an antique show. He is approximately 13 inches tall. He has good coverage of golden mohair except for some balding on his face. He has large feet with a hole in one pad. His arms are long and curved and there is a hole in one of the pads. He has a black floss nose and mouth as well as black stitched claws. He has black shoe button eyes. Just wondering if you could tell me the maker of my bear.
Thanks. Linda
Hi Linda,
Your 13" teddy has a slight mouse appearance with the deep set eyes, placed close together. The wear you see in the center of the body, and around the top of the nose, appears to have had the mohair either shaved or cut. With wear, there are usually no remnants of the mohair plugs just the fabric backing. So, your sweet little Ted has some attributes of the Ideal Novelty and Toy Co., with the American label.
The ears are sewn toward the side of the head, as most early bears. In addition to this, the cord nose is horizontal with the outer trim completed to encase the shape. The mouth and inverted Y extension is very slight. Stuffed with excelsior, we see a perfectly formed hole in the pad, and it seems a few slits in another area. He seems to be gently stuffed. The three claws are not common for Ideal, usually they have four. However, I see the one area has very loose claws. With the long arms, he appears to date from 1910-14.
His arms reveal no shoulder area and the the closing hand seam is done in the back of the body, a common trait for the American toy. Many had squeakers in the tummy area. A tad bit larger than the doll sized teddy, the value would be $400.00. Brenda

Hi Brenda,
I was visiting the San Francisco Bay area and wandered into an antique shop. I saw what appeared to me to be a Steiff bear.
The hand written sales tag just simply read: "Old Teddy bear $20." It has a movable head and articulating limbs.
Button eyes, stitched nose and leather padded paws. The right hind paw has EMW hand written in ink. It feels heavier than one would expect of a modern bear. I'm not sure what it's stuffed with but it almost feels like small beads or sawdust? I'm Hopefully you can identify it and give me an appraisal.!
Sincerely,
Karl

Hi Karl,
You found a great bargain at the antique shop! It is referred to as an artist's teddy bear, made by a gifted sewer and creator. It is a curly mohair, which by itself sells for about $150.00 a yard. The look of the old bears is simulated with the older shoe button eyes. Most original buttons had a rounded appearance as opposed to your flat variation. The nose is hand sewn in cord in the horizontal fashion to also connect to the German models from the early 1900s era. Steiff, being the model company, completed all bears under 16" with this horizontal rule. Those at 16" and up received a vertical stitched nose. The stuffing is excelsior, just like the originals, to insure good form and a solid teddy. The EMW signature on the leather paws, may actually read—Ema, written in cursive, for the makers name. It is five way jointed, and in excellent condition. It dates from 1990-2000s, when many artists were crafting their own bears from hand designed or patterned pieces. Most artists used felt for the pads, but yours has a leather to match the brassy colored mohair. It is a quality bear, and at one time these were going for $150.00-200.00! Much like the 1907 era of the year of the teddy, this too was placed into circulation for Collectors. Artist creations found a world wide market, but many from the USA, held high marks. Some had squeakers inserted in the tummy, for voices! Value for you teddy today would be $100.00! Enjoy! Brenda

Dear Brenda;

This 14" bear was my father's, but I don't know if he was it's first owner two families occupied the same house. He was born in 1920. I used to have an old photo of him as a toddler holding the bear, but this was lost in a flood. Arms, legs & head jointed with metal discs. Hand sewn front seam. Can feel hard flat circle (size of a quarter) in front of belly that pushes in. No eyes; just thread knots left. Pads appear to have been fabric, quite worn. Golden brown color. Crunchy filling, stiff
No tags or other identifying info. I am interested in knowing more about him.
Thank you, Janet

Hi Janet,

How sweet you have your Father's bear! The extra large ears may have been a way for carrying him over the years..at least, they are still attached. He has German roots, with this particular trait of the ears, with a company called Louis Phillip Luthardt, located in Newstadt, near Coburg. Originally founded in 1909, as a stiff jointed doll factory, they expanded into bears after WWI. They were extremely successful, and needed additional help. But, by the end of the 20s, they experienced heavy losses for exports. The site was sold to Carl Kiesewetter in 1932 and production stopped. The eyes would have been glass, an amber color with black pupil, and simply attached to a wire shank. The nose consists of a few horizontal cord stitches that remain, and there was an inverted Y extension for the mouth. The three claws, and somewhat chunky feet, along with the hand sewn front closure are also traits with this L.P. Luthardt Co. Their trademark was a standing bear and a child on each end of a balancing plank with a capital P in the middle. He dates to the 1920s, with felt pads that are reinforced with webbing to keep the excelsior intact. Over time, squeakers become inoperable when air gets into the mechanism. I am sorry for the flood that took your provenance.. but you can start anew now, and establish your adoption! Value for your 14" teddy would be $175.00.
Brenda

Hello, I came into little Simon a year ago through an online auction and have always wondered about his origins. 17" and his mohair is in really decent condition considering his suspected age. All 4 of his original felt paw pads have been re-covered with felt.

The spring from the squeaker in his tummy has come through his front. Glass eyes, One ear appears to be a replacement as the colour seem a bit off. He is completely filled with wood wool. Fully jointed. I can't help but think American bear when I look at him, except for those paws! Any insight you have would be greatly appreciated.
With my sincere thanks,
Eileen

Hi Eileen,
Your stoic teddy bear is an American teddy, and mostly attributed to Ideal Novelty and Toy Co. of N.Y.
Although there were many makers in the USA, Ideal was the prominent factory in 1907. Classic design with the simple horizontal cord nose done in a few stitches...we can see the depression for the mouth and nose extension, so he is smiling. Ideal continued with shoe button eyes for several years, and used glass eyes after WW1. Your teddy has the over stitched seams, a trend to speed up production. The added mohair ear was well done, but I can see your critique about the placement. He may have been carried by his ear, achiever the years. The extremely long paw pads in the hands, were common on these American teddies. Notice the low set arms, creating a definite shoulder area. The hump on the back is definite, with a somewhat drooping head. This has to do with the excelsior stuffing, it is heavy after all these years. The football shaped body, and ears placed to the side of the head dates him to the teen years- 1914-16. That makes him an antique! Good ole Simon, I am sure he is most pleased with your adoption. Value for him would be $375.00. Years ago, this would have been doubled. Hoping the bear market has a rebound! Simon says, "enjoy life"! Brenda

Dear Brenda,
I would like to know more about this bear I bought from a woman living in the Netherlands who found him at a flea market in Germany.
I fell in love by his cute appearance with his small red tongue and the special nose stitching. The people I have asked for information think he is a Pintel but have never seen one with a tongue. He is 60 cm or 24" tall, stuffing is excelsior. He is in very good condition. He had a pink plastic growler inside that doesn't work. Glass eyes and 3 claws on each paw. I look forward to your response.

Best regards, Debbie

Hi Debbie,
A bear this size is precious cargo..24" is considered large!
He is quite different with the red felt tongue, a vertical cord nose with drop stitches at the outer points, and large cupped ears with the inner lining matching the velveteen pads. Pintel and Fadap are the most familiar early French makers, while Jan Jac, based in Paris, was later. With the tongue as a characteristic trait of this latter company, he most probably is from this manufacturer. The hands have a slightly upward stance, similar to Jan Jac,, a nice round body with wide shoulders. He dates to the 1950s, and is in excellent condition. The short mohair has only one wear spot that
I see, on the back of his head. Three claws were the norm for most of the French makers that did have claws. He does not have a discernible hump to emulate shoulder blades. With his great presence and red bow, maybe he was a prize at a fair! The stuffing of excelsior helps him stay in shape. Glad you were able to restore his voice...at this size he needs to be heard. Value for your pristine Frenchie is $500.00. Start his new provenance with you, it's never to late!
Enjoy, Brenda

Good Morning Brenda,
I have a 14" Steiff teddy bear that is in original condition with a good coverage of lovely soft Carmel coloured mohair. He retains his script button and a tiny piece of his yellow tag beneath it plus
remnants of a US Zone label on his right arm. There appears to be a loose box inside his torso. I read an article relating to a Steiff baby bear with a US Zone label which was found to have a concertina musical movement, which has heightened my curiosity in regards to the origins of my bear. Teddy was purchased from eBay,

Thank you,
Dawn

Hi Dawn,
Great video of your musical Steiff teddy! He dates to 1951, and has a concertina music box in the tummy. These devices were mostly Helvetic movements...made with a round box, inserted into the tummy and by gently squeezing in a continuous motion, a tune would be played. It probably needs to be repaired and the music would begin again! At the time, this teddy bear was similar to their Original Teddy designs, with an unshaven muzzle. The zone tag refers to US Zone Germany, as we occupied the land and exports had to be labeled as such..1947-53. His mohair is caramel as you state, and a portion of the yellow fabric tag appears in the ear, along with the nickel script Steiff button. Originally, on the tummy there was a red felt circle with a white script reading, "Music". In 1993 they made a reproduction of this bear, with a production of 7,000 pieces. He is in excellent condition and I love the woolen scarf! Today, your 14" teddy would be valued at $2,500, with the working box!
Brenda

Hi Brenda

I have this Vintage brown Teddy bear purse circa 1940/50's from the Ex Moffat Toy Museum.

The maker is unknown. 5 way jointed bear purse that is 8" tall.

Thanks, Dawn

Hi Dawn,
This cinnamon teddy bear coin purse is an artist piece. The vintage coin holder is older, while the teddy bear is a newer addition. These little purses were meant for dolls initially. We had a display in the Chelsea Toy Museum, and included
a sweet little coin tartan purse, that held very small dice!
It had been that way for many years, so it seemed natural to honor the original intent. Over the years we have seen a few accessories like these..doll collectors enjoy this fashion trend. I am not familiar with the Ex Moffat Toy Museum, NY. Do they sell pieces? The Molly Merritt Doll Museum closed several years ago, and we were fortunate to get a few simple composition dolls from an antique dealer. When Naples Teddy Bear Museum closed, the owner offered some of the items on line. Again, this is a novelty, with a jointed teddy bear. The skilled artisan used the vintage purse and attached a smalll teddy! Value for your teddy coin purse would be $125.00.
Brenda

Hi Again Brenda,

This Antique-Vintage pink Teddy bear scent bottle is about 8" tall.


Ex Moffat Toy Museum and the maker is unknown.

Sweet little 5-way pin jointed teddy bear.

Tank you, Dawn

Hi Dawn,
Your museum pink bottle teddy bear is an artist designed piece, and dates to the 1990s. It is mohair and was fashioned around a form to resemble the Schuco candy containers. It is mohair, and fully jointed with ears sewn more toward the side of the head. These were considered novelties, as an adjunct to the popular teddy bear. Schuco had metal bodies, and the mohair was formed and clamped around the metal tabs. They were heavy for their small size. With the cork, we can assume it was meant as a candy container, while a glass stopper was used for the perfume containers. They all had a glass receptacle inserted into the body to keep the contents safe. The talented artist had great design...much like the museum reproductions of Steiff and others. The nose is hand sewn in a horizontal cord, along with claws on the pads. The mohair is long. Condition on older novelties is usually worn, they were used! Your bear is in excellent shape. Too bad there was not a ID tag attached, with the artist's name. The very first artist bears got their start on the west coast..in the 1970s. Today, their generational relatives are bountiful! Value would be $125.00 as an artist bear novelty.
Brenda

This bear was purchased via eBay in need of some TLC restoration. Described as an antique Teddy Bear that reminded the seller of some early Farnell Bears although stated that he couldn't be sure. Mohair teddy bear with good coverage of mohair.
21" tall and is straw filled.
5 way jointed with non-working growler. Bear has been sympathetically restored & cleaned. Arms, pads repaired and restored and eyes replaced, I would value your thoughts and opinion on the bear's origins, age, etc

Best Wishes
Dawn

Hi Dawn,
Your teddy is indeed English, with the characteristic round tummy and large head relating to the Chiltern Toy Works. There is a Farnell connection, when Harry Stone- formerly of Farnell, collaborated with Leon Rees in the forming of this inherited company. They called it the H. G. Stone and Co. dating to the 1920s. The Chiltern title referred to their location in Chesham. Harry Stone died in 1935. Best known for their "Hugmee" series, this very kind, friendly teddy was made for many years. This is the particular Chiltern you have, with the shorter arms, stubby feet and nice full tummy. He dates to the 1940s and probably had velvet or rexine pads. The eyes were glass, as are the replacements, with a growler, and arms attached close to the shoulders. There is a slight upturn on the left paw. With no discernible hump, he is well stuffed and has cupped ears. The earliest bears had an upward side stitch on each end of the nose, and a full mouth. Your nose is the later example, all even vertical stitches. He was expertly repaired, capturing his sweet expression! Value for your large size Hugmee Chiltern would be $400.00.
Brenda

Hello Brenda,
Once again in need of your assistance, knowledge in regards to a bear I recently purchased. Although no information accompanied the bear, it is believe it to be German in origin circa 1930/40's. 18" tall, solid bear stuffed very firmly with wood wool throughout and is in wonderful condition. He is all original made with a lovely short pile mohair, has glass eyes and black stitched nose and mouth. He also has a very upturned nose which is. adorable. His torso is firmly stuffed and has broad shoulders making him very sturdy. He also has a slight rattling in his tummy from a non working growler. In my opinion he has a wonderful side profile oozes character .
Dawn
Hi Dawn,
Nice stature for this unique teddy! The upturned nose is so common for a French company, FADAP. Formed in 1925, in Divonne-les-Bains, their first toy bears were tagged with a printed metal button over a cardboard tag in the left ear. Traits of this company include a stocky build, wide shoulders, and hands that are full, not tapered. The eyes are amber glass, set outside the head seam, with a horizontal nose done in a fine cord, and inverted Y mouth that is prominent. The ears are towards the top of the head, placed in a slightly cupped position. He is solidly stuffed with excelsior, keeping his great stoic stance. The pads are wool felt, with three claws each on the limbs. You mentioned the tilt growler is non-working, a very common condition as air gets into the mechanism. He was talking some time ago...I believe he dates to the 1930s. During WWII, production slowed, but they used synthetic fabrics, and even button eyes. In the 1950s, they worked with Ideal to create a molded vinyl head, to develop another range of teddy bears.
They closed in the 1970s. Value for your 18" French teddy would be $500.00.
Brenda

Hi there,
I inherited my moms old teddy bear after she died and am very interested to know more about this cute guy!
The bear is 19" tall and came with my mother from Austria when she immigrated and was her bear in the 50's. He's definitely a little scruffed up, but I believe he was well loved! He also growls when you tip him.
Alex

Hi Alex,
Your Mother's large teddy bear is native to her homeland! What a great provenance. It comes from the Wilhelm and Berta Fechter Co.. better known as just Fecther. They were formed in 1948, after WWII, in Graz, Austria as a small cottage industry. This example has cousins in the teddy bear world with Steiff and Hermann, all known as the teddy baby bear. The characteristic particular to Fechter is the black outlined mouth and red tongue within the open mouth. He is mohair, with a contrasting chest plate and ears, also done in mohair. The stuffing is excelsior, as we can see by the opened paws. He must have walked a lot...wearing out his felt shoes! Exhibiting down turned paws, this was a friendly gesture to insure he was harmless. At the time he was made, he had a fabric label attached to his left ear...Fechter, Made in Austria. His black stitched nose is cord, shaped with a shield design. The ears are large and flat, allowing good hearing, while the voice is a tilt growler. The eyes are glass, done in a reddish orange with the black pupil. He dates to the 1950s. Continuing until 1978, the company's remaining stock was sold to a CA antique dealer, who imported them and sold their products. Berta died in 1973, Wilhelm in 1985. Value with provenance (including any pictures of your Mom with bear!) would be $300.00. The felt could be restored with hand mending. Brenda

Dear Brenda,
I am attaching photos of what I believe to be a Steiff Teddy Bear. This bear came with my in-laws when they immigrated from Germany in the 1920's and was my wife's in the 1940's and '50's. The bear has been in storage for years. It is jointed, doesn't have the Steiff button, has an inoperable voice box or something like that inside when you turn it.
I am curious about the covering on the paws....have not seen any like that in my research. I am assuming it is mohair, well worn, it has the humbback.
Ron

Hi Ron,
Thank you for all your input on this teddy! He has been very cherished and deserving of attention. From the photos, the most telling one is the head with the characteristic hand sewn nose. He is not a Steiff, but is an English fellow made by Dean's Rag Book Co. They were started as a printed cloth book company in 1903, and evolved into the Knockabout toy sheets about 1905. England was known for their optimum mohair, and similar attention to detail as the German bears. The distinctly sewn nose with the outer lower stitches is a trait of this company. Five way jointed, he is stuffed with excelsior and quite solid. The object you feel in the tummy could be a growler. Very often they have air in this mechanism, and are nonworking. Squeakers were common in smaller bears, which also could be idle from an air pocket. The mohair is sparse, meaning he was well loved. The mouth is missing, it would have been an inverted Y extension from the nose. The original eyes would have been painted glass with black pupils on wire shanks. We can see the anchor for the newer replaced shoe buttons on the back of the head. The material for the pads appears to be a knit fabric, which resembles a worn velveteen. Original pads were velvet! I can see the remnants of the three claws for the feet, and his hands would have had four claws. Dating to the 1930s, he has the hump on the back, cupped ears and formed feet. Any pictures of your wife with teddy would add to the provenance. Original ID could have been a tag on the right foot, or a silver button in the left ear. Value today for your 18" bear would be $225.00.
Brenda

Hi Brenda
This bear has been in family as long as I can remember and I am 72 now. Bear is 17" top of head to heel of foot
Head and arms do swivel
No damage, been securely stored dry storage for over 40 years. I do not have any photos of me holding the bear.

Rick

Hi Rick,
Your Steiff Zotty bear is in excellent condition, only missing the cardboard chest tag in the chest! This blank button was only used from 1948-50, and the markings on tag 0300/43, also date this example to 1968-78 for production. What probably happened, is they used the button on hand (blank) as an ID. It is a 20" teddy, considered large sized in the teddy world. They made a few different colors in this Zotty, yours is the caramel..they made several sizes in this model. Less common are the white and rosewood (mauve tone) mohair bears that were offered in a only a few sizes. The larger bears have a growler, when tilted away from you, it does growl. Since it is now a vintage bear, this mechanism may not work. The smaller bears had squeakers. It is said the term Zotty meant furry friend in German. The contrasting chest mohair also helps identify these bears, especially if they have no other form of identification. Hermann made a similar bear, without this apricot chest plate. The open mouth and down turned paws portray a childlike quality, harmless and adorable. His value would be $275.00. Great that you took such good care of him!
Brenda

Very excited to receive an evaluation for my recent acquisition. This is a very interesting Bear, indeed! I purchased thinking this teddy would be stuffed with excelsior. Much to my surprise the bear is 100% stuffed with horse hair. This teddy is 14" Tall, has lovely beige Mohair, wood shoe Button eyes and the most narrow muzzle I've seen! His back curvature is beautiful. He has a stitched seam on the front and back of his torso. I've been told he looks like a cross between a Strunz and an American bear.
Thank you so much! Karen

Hi Karen,
Great early find for an American teddy bear! He is stuffed with the horse hair as you suggested, most often referred to as a "sub fill". He most resembles E.I. Horsman teddy bears, advertised in Playthings Magazine 1906, with the word Teddy's Bears as first used in print. Before this time they were called Bruin's. Edward Imeson Horsman started his business in NY City in 1865, and remained as a top toy industry. Early dolls were imported, and by 1904 they developed their own examples. Your teddy dates to 1907, with the sub filling, mohair fur, wide hips, horizontal nose and ears toward the side of the head. They are not as low
as the earliest American bears, with a small section over the head seam. I believe the shoe button eyes are replacements, with the original shoe buttons sewn deeply into the head. Excelsior stuffing gives that deep set appeal, while the sub is similar to a kapok stuffing. Horseman was more well known for their dolls- especially the Can't break Em' " label. The compo heads were used in 1911 for Teddy Dolls, and
a teddy bear mohair body. Teddy Bull Moose was made in 1912, as TR ran for President under the Bull Moose Party. Horsman and the Aetna Doll and Toy Co. merged from 1919-1925. The era of your bear was the rage for all to own a teddy bear! The small hole in the felt right pad could be closed with a piece of wool felt, matching the color.
Value for your 14" teddy as is would be $500.00.
Brenda

Hi Brenda,
This little bear came to us from an uncle from Denmark. It belonged to his wife who was also from Denmark and I'm assuming she acquired him there but she did live in the US for a few years in the 90's so I guess it's also possible that he's from here.The bear is about 16" tall, his arms, legs and head move. His eyes sound like plastic when tapped. He's got adorable clothes on (corduroy overalls and beautiful cable knit booties) and sure looks to be a very well loved bear. We would love to hear anything you might know about such lovely little bear.
Thanks, Judy

Hi Judy,
What a sweet teddy, dressed so royal in his Swiss overalls and ruffled shirt! He is American and probably made around 1920. With the clothes, it is hard to see the definition of the body, but his replaced felt hand pads show 3 claws and a slight upward turn on the right hand. The company of origin most resembles those advertised by Sears Roebuck and Co. The most important part of any teddy is their head. Revealing a vertical stitched nose out of black cord, and a slight mouth, with the eyes are placed outside the head seam. This gives his forehead a wide appearance. The fur is mohair, and most likely the bear has a mixed stuffing of excelsior and kapok. The left ear was probably a favorite way to carry this bear...but thank goodness, it is still attached! The right ear is nicely cupped and sewn, with the original placement. Their is no discernible hump on the back, just a nice round shaped body. The seams are overstitched, a common American trait which saved production time. The clothes are considered vintage now, 50+ years old and were added by a collector. He does have some wear around his muzzle, and I cannot see the condition of the body, but will hope all is intact. Today his value would be $150.00 for a 16" American teddy. Any provenance (pictures etc.), would help add to his heritage.
Brenda

Hello Brenda,

This bear was my late husband's childhood friend.

It has moveable arms, is 36". It is in very good condition.

The pads are velvety.

Thank you.
Judith

Hi Judith,
Wow..a very large teddy bear at 36"- and in such perfect condition! He could have joined the beloved collection that belonged to Shirley Temple, when she was young. This was her favorite bear, a Knickerbocker. As his childhood companion, if you have pictures of him and the teddy, that would add to the provenance! Now, back to your late husband's teddy, an example of Knickerbocker, made in the 1940s. You even have a remnant of the chest tag still in tact, which read "Knickerbocker Toy Co. NY",
with a wishbone pictured to the left and a person under the lucky wishbone. It reads, " Made under sanitary laws". The amber glass eyes are merely inserted into the excelsior stuffed head, and his perfect cord stitched vertical nose
and mouth are in excellent shape. He has velveteen pads,
a common trait, and a contrasting muzzle done in a shorter mohair. Knickerbocker was a famous American Co. making Victorian alphabet blocks in the early years, then branching into teddies and other animals in the 1920s. They received
a license to produce Smokey Bear until 1977. In the 1980s, they ceased operating. Ideal made the first Smokey in 1953. Your American Knickerbocker teddy would be valued at $400.00. A vintage photo would add another $40.00.
Brenda

Hi Brenda,
The second teddy is made of long white mohair and measures 18" when standing. He is 5x jointed, has short arms and legs with long torso and felt covered paw pads. He has brown glass eyes with very large black pupils. His voice box is no longer working. He has some minimal overall mohair loss in his body, moderate on his forehead , but his snout is almost bald. He was purchased at auction and paired with a 1930s Eduard Cramer teddy. He has a very sweet expression.
Thank you in advance for your expertise!
Best Regards,
Jill

Hi Jill,

Your white bear with the black nose is German, most probably from Franz Nagoorski, of Berlin. The firm was founded in 1906, so they got in on the ground floor of the stuffed toy world. His mohair is a long plush with an equally very long torso. Your example of this firm dates to the 1927 era with shorter legs and an expertly hand sewn black cord nose. It also has no claws and bears from this maker have a slight upturn in the hands. At 18", this is almost a large sized bear, when considered with the 20" examples. The larger ones also had growlers ( you mentioned it is not working), as opposed to squeakers. The eyes are a dark amber glass, sewn into the head seam. He is stuffed with excelsior, has wool pads and is 5 way jointed. There is slight hair loss in the muzzle area. Compared to Steiff, this nose is black where Steiff would have a white bear with salmon colored cord! The black shoe button eyes are outside the seam, creating a wider face! The nose seems to sit mostly under the head seam. Value for this teddy would be $600.00. Enjoy
Brenda

How much is your beloved bear worth?

Ask Brenda Yenke

Appraisals are $20.00 for each item. (Bears, stuffed animals, vintage toys too)

Use PayPal (link below) to pay.

Send your bear photos to:

Please include as much information about your bears as possible: size, how it was acquired, various poses, and 5-12 photos
attached to the email.

---

Do we have permission to show your bear
on this web page?

Only your first name will be published.
Please give us permission when you send your
photos in your email.

---

Available: Evaluation Certificate

Document contains a photo of your bear, the email request from you describing the bear, and the appraisal by Brenda.

The Evaluation Certificate will come to you in a pdf format for you to print and keep with your beloved bear.

Certificates are $10.00

for each bear.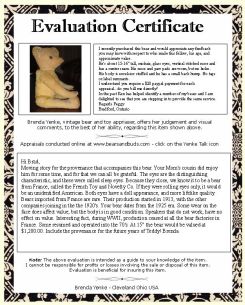 OR after a paid appraisal, should you wish an Evaluation Certificate, please use this PayPal button for ordering.
Please state the name of the bear in the comment box.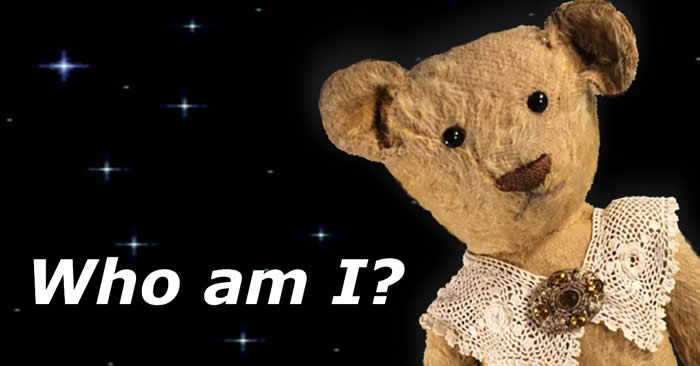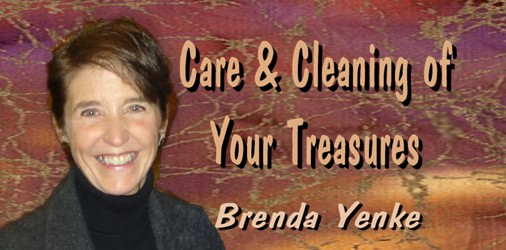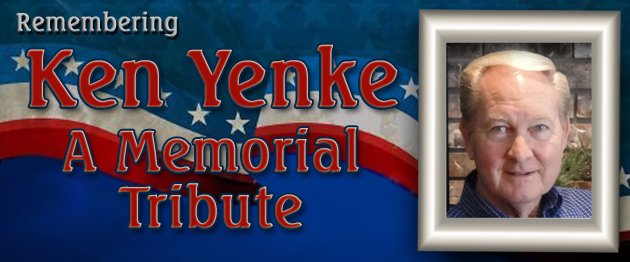 ---
Collectors - if you like reading articles like this, why not subscribe to Bears&Buds?
Just $15.00 a year. You'll receive a collector's lapel pin and a password to enter the Collectors' page where you'll find more wonderful articles..
---
Artists
-

would you like to be seen by our worldwide readers each month?
Become a Professional Artist-Member of Bears&Buds today!
Advertise FREE! Your membership password will take you to the B2B section loaded with selling, making and how-to ideas.
---